Homes for Sale in Comox, BC
Welcome to Comox! Below you will find the newest homes for sale and real estate in Comox, BC. If you would like more information on any of these Comox real estate listings, simply click on the property, register for a free account, and you'll have access to the full details. From there, you can click Schedule a Tour to request more information from our Loyal Homes Client Care Coordinators or schedule a viewing. Our Client Care Coordinators will be happy to provide you with property disclosure statements, past sales history, comparable properties which have recently sold nearby, and more, so please don't hesitate to ask for help!
For your convenience, we have included Comox community information at the bottom of the page, including directions for getting here and information about weather, culture, healthcare, recreation, schools, and the real estate market.
Newest Comox Real Estate Listings
Comox Real Estate Listings
November 27, 2021
About Comox, BC
Comox, BC, is a vibrant yet tranquil seaside town on the eastern coast of Vancouver Island. Comox truly has something to offer for everyone. Its proximity to both the ocean and the mountains—as well as an endless array of rivers, lakes, trails, and more—makes it paradise for nature enthusiasts of all sorts.
With a population of around 15,000 residents, Comox is like a sibling to the nearby city of Courtenay. Comox is part of the Comox Valley region that—in addition to Courtenay—is comprised of communities including Royston, Fanny Bay, Union Bay, Merville, and Black Creek.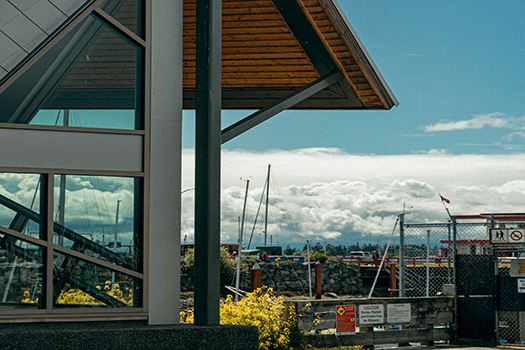 Comox has a rich history that dates back thousands of years. The K'ómoks people thrived in the area due to the mild weather and ideal soil conditions. In the nineteenth century, the lumber and fishing industries began to grow in the area, and Comox found new prosperity when an air force base was established there during World War Two; the air force base remains one of the town's leading employers.
Getting to Comox
Comox is easily accessible via other communities on Vancouver Island. The four-lane Inland Island highway makes for a quick one-hour trip from the city of Nanaimo. The old scenic two-lane highway between Nanaimo and Comox takes longer but offers beautiful views of Vancouver Island's tiny seaside communities.
There are ferry services from Greater Vancouver that arrive in Nanaimo and Victoria. The drive from Victoria to Comox typically takes around three hours.
Comox is also accessible by plane. The small Comox Valley Airport offers flights to several British Columbia and Alberta destinations, and small planes can also land at the Courtenay Airpark.
Daily flights from Comox to Vancouver (offered by Air Canada, West Jet, and Pacific Coastal Airlines) take only forty minutes, making a daily commute to Vancouver possible. WestJet also offers daily flights direct to Calgary.
Comox Weather
One of the most desirable features Comox has to offer is its very mild climate. The town has a warm-summer Mediterranean climate, which means summers are mostly dry but rarely hot, and winters are seldom freezing.
Like many parts of Vancouver Island, Comox does get considerable rainfall, but most of this rain occurs between October and March—much of late spring, summer, and early fall is dry and sunny.
Comox's mild weather is attributable to its location on a small peninsula surrounded by three bodies of water: Comox Bay, the Georgia Strait, and the Courtenay River. During the summer, temperatures usually hover in the low 20s, rarely reaching 30°C. During winter, temperatures are typically in the mid-single digits.
Comox Culture
For a town of its size, Comox has unusually vibrant artistic communities. Comox hosts two museums. The Filberg Festival features the work of local artisans and has attracted a far-reaching reputation for the high-quality artwork it showcases. The Comox Valley Art Gallery in nearby Courtenay presents contemporary art by local and international artists.
Many of Comox's cultural attractions involve engaging with the local landscape. The annual Snow to Surf adventure relay race takes place in April, and teams of 9 participants ski, run, bike, kayak, cycle, and canoe their way from the top of Mount Washington to the Comox Marina Park.
Another popular annual festival, Nautical Days, takes place in Comox Marina Park and consists of an arts and crafts festival, live music, a car show, a parade, and a boat-building competition.
Comox Education
The Comox Valley School District 71 provides learning for the surrounding municipalities, including Comox, Cumberland, and Courtenay. The SD 71 includes education for around 8,600 students ranging from K - 12. Including 15 primary schools, one middle school, and three secondary schools. The School District also offers programs through 2 alternative schools.
Comox Health Care
North Island Hospital Comox Valley, a new $332 million hospital that serves residents of Comox, opened in Courtenay in 2017.
Previously, Comox was served by St. Joseph General Hospital, which dates back more than a hundred years. St Joseph hospital remains open in a limited capacity, providing residential care and laboratory services.
North Island Hospital Comox Valley is operated by Island Health and offers dozens of services in addition to a Wellness Centre that provides outpatient services and classes and services related to the management of chronic diseases.
Things to Do in Comox
One of the most popular recreational pastimes for residents of Comox is to head to nearby Mount Washington—around a forty-minute drive. During winter, skiers and snowboarders are spoiled by nearly 2,000 acres of terrain served by five chairlifts. There are also excellent cross-country ski trails.
For those looking for some deep relaxation, the Kingfisher Spa is hard to beat. The Hydropath, in particular, offers unique experiences of wellness and bliss. A circuit of mineral baths, a grotto, a steam cave, and more offer visitors ample opportunities to unwind.
The stretch of stores along Fifth Street in Downtown Courtenay features quaint boutiques, cute bookstores, and exciting gift stores when it comes to shopping.
There may be no better way to spend your time in Comox than to head to one of the beautiful beaches, including Goose Spit. At Goose Spit, you can explore and spot wildlife along the shore. As the sun goes down, many locals love to build a beach fire in one of the designated fire pits.
Comox Real Estate Market
Many of the houses in Comox are split-level homes built in the 1960s. Along the town's main road, Comox Avenue, many houses are built in a style affectionately known as a "Comox Box": large split-level two-story homes with the main entrance that opens onto staircases that lead upstairs and down to a basement. Investors in Comox real estate commonly renovate this house style, opening up the living areas to meet more modern tastes.
Foxxwood Heights is one of the earliest urban subdivisions in Comox, built back in the '80s. While some new homes continue to be built in this neighbourhood, many of the homes in this calm and pleasant area are a few decades old.
In the late '90s, a new subdivision called Highridge was built near Highland Secondary—the town's high school. Homes in Highridge come in many styles, as many are custom-built ranchers. Highridge also features large custom homes over 4,000 square feet and in relatively unusual designs, including Cape Cod-style homes.
Finally, Beckton Estates is one of Comox's desirable new neighbourhoods, located near the Comox Peninsula. The homes in this area were built around a decade ago and are mainly mid-sized two-story homes and ranchers. This sunny neighbourhood is desirable for its unbeatable mountain and ocean views and easy access to the sea.
Comox Realtors
Are you thinking of buying or selling a home in Comox? If you're looking to buy a home, contact our Loyal Homes real estate agents, who can answer all your Comox community, neighbourhood, and real estate questions.
If you're thinking of selling your Comox, BC home, our associated Listing Realtors can provide information on recently sold comparable properties, up-to-date real estate market information, and professional tips to help you prepare and sell your house for top dollar.