Homes for Sale in Chemainus, BC
Welcome to Chemainus! Below you will find the newest homes for sale and real estate in Chemainus, BC. If you would like more information on any of these Chemainus real estate listings, simply click on the property, register for a free account, and you'll have access to the full details. From there, you can click Schedule a Tour to request more information from our Loyal Homes Client Care Coordinators or schedule a viewing. Our Client Care Coordinators will be happy to provide you with property disclosure statements, past sales history, comparable properties which have recently sold nearby, and more, so please don't hesitate to ask for help!
For your convenience, we have included Chemainus community information at the bottom of the page, including directions for getting here and information about weather, culture, healthcare, recreation, schools, and the real estate market.
Newest Chemainus Real Estate Listings
Chemainus
November 27, 2021
About Chemainus, BC
It is no wonder why over 400,000 tourists stop in Chemainus every year! The charm of the community speaks for itself in its easy-going character and homespun service. Daily life here is idyllic, and this small town stays authentic by limiting large chain businesses and supporting local entrepreneurs. The 3000 plus locals that call Chemainus home are self-claimed Chemainiacs because they are so happy and proud to live in this community.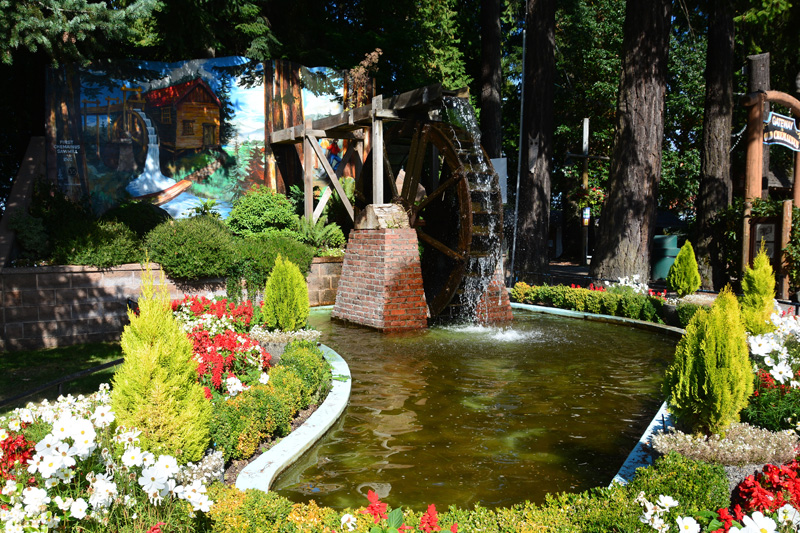 Chemainus is a living and breathing museum with 41 larger-than-life murals initially painted in the 1980s. Grab yourself a map from the visitors center and make your way by foot throughout Chemainus to discover the area's history through the works of art. The town itself is very accessible and easy to walk through, with many rest areas for seniors.
This vibrant community enjoys the coastal breeze and calm coastal waters as this area of the coast are protected by the southern Gulf Islands, including Saltspring Island, Galiano Island, Thetis Island, and Penelakut Island. Tucked away off The Trans Canada highway, it is easy to miss Chemainus. But once you have been, you will never forget the charm that is Chemainus.
Getting to Chemainus
Chemainus was initially established as a forestry and mill town because it was right in the middle of Vancouver Islands, two significant cities Victoria and Nanaimo. Being close to these cities and their major ports, including the ferry terminals over to Vancouver and the mainland, made Chemainus an excellent place to settle. Today this geography is still making Chemainus attractive to many.
Chemainus is a part of the Cowichan Valley Regional District and sits on the northern boundary. The Cowichan Valley is known for its fertile agricultural land, sizeable productive working forests, and calm coastal waters. As far as geography goes, there is something for everyone here, from the mountains and lakes to the rivers that flow down to the ocean inlets. You will have to share your backyard with all kinds of wildlife, including Eagles, Deer, and even Roosevelt Elk.
Within the Town of Chemainus, it is not hard to get around, and everything is only a short walk away. Oldtown is the original shopping area that is still active. Located next to the ferry dock that provides access to the Southern Gulf Islands, Thetis Island, and Penelakut Island, you will find lively merchants that offer food, handmade soaps, art, antiques, and collectables.
All in a day in Chemainus, you could find yourself sunbathing at the beach, having lunch at a local café, exploring one of the many trail networks in the forests, then catching a show at the local theater! Your options are endless in Chemainus.
Chemainus Weather
Although the winters are generally cool and wet, the annual average rainfall is only 1180 mm, which is well below the rest of the Vancouver Islands average at 1849mm. Winter temperatures range from -5°C and 8°C with the summers warming from 9.5°C to 23°C. This weather makes for a long growing season that begins in early May and lasting well into October. Gardening in your backyard can fill your summer, and you can serve fresh veggies on your patio as you entertain friends and family at those summer barbeques. In the Fall, you can forage for wild mushrooms, an increasingly popular activity. But be careful as wild mushrooms are hard to identify and can be poisonous. Attend a local weekend workshop to learn how to do this activity safely!
Although it does not snow much in Chemainus, Mount Washington alpine resort is only a 2-hour drive away and can be your winter wonderland. Leaving the snow where you want it, up at the mountain, and away from your driveway!
Chemainus's Mediterranean climate is perfect for many and to enjoy the activities you love year-round. Grab yourself some good rain gear, and you can get fresh air 365 days of the year!
Chemainus Culture
Chemainus has a rich history and local culture. The local First Nations tribe, Stz'uminus First Nation, are active in the community and directly impacted the naming of Chemainus. Legend has it that a powerful chief named "Tsa-meeun-is" was wounded in battle, sustaining a massive wound in his chest from an arrow. Chemainus originated from Tsa-Meeun-is and translated to "Broken Chest," which refers to the chief's wounded chest. To honour the warrior chief, the people took his name for the town.
Chemainus has over 3,000 residents and almost a thousand more if you include the surrounding rural areas such as Crofton. Chemainus was once an industrial town that was thriving in the forestry industry in the mid-1900s. But a recession in the 1980s threatened the survival of Chemainus. A proactive mayor at the time breathed new life into the community with the creation of the murals. The creation of the murals came along with an abundance of art and helped shape the culture of Chemainus that we see today. Four hundred thousand tourists pass through Chemainus each year to visit the murals and other attractions in town.
In 2017 Chemainus was voted into the top ten friendliest communities in Canada. Visit at any time of the year, and you will be greeted with open arms. Chemainus has a vibrant, established, and entirely professional theater that features some of Canada's finest performers and performances. This creativity and friendliness is the backbone of Chemainus. Coming together to create a supportive and strong community is what makes Chemainus thrive. Stop by the main street in the summer and check out the local market. You will find yourself meeting friendly locals while you pick up fresh veggies, bread, or maybe a new piece of art that you must have.
Chemainus Education
Chemainus is a part of the Cowichan Valley School District 79. Two public schools are serving the community of Chemainus. Cowichan Valley School District 79's mission is to "Empower tomorrow's learners today." One Elementary school serves the more rural Crofton area with students travelling to Chemainus for Secondary School.
Chemainus Health Care
Chemainus, although small, still offers several valuable health resources. A part of the Island Health Network, the Chemainus Health Center provides several services. There is always a registered nurse on-site and local doctors either on-site or on call. Some of the services offered include minor urgent care, medical imaging, laboratory services, and long-term care. The long-term care facilities provide subsidized care with 75 homelike, private, and semiprivate units with safe, competent ethical care. The Cowichan District hospital is in Duncan for more urgent matters, a 22-minute, 20.5 km drive away. This primary hospital services the greater Cowichan Regional District.
In Chemainus, there is the Chemainus Medical Clinic with General Practitioners, an optometrist, Cowichan Eyecare, and the Village Dental Office. There is also a counselling center. Rest assured all your medical needs can be taken care of in Chemainus.
Things to Do in Chemainus
Location, Location, Location! What is true about Real Estate is true for the recreation opportunities in Chemainus. With beautiful west coast nature knocking at your doorstep, your recreation world is your oyster. Hiking, biking, and fishing are some of the most popular outdoor activities in Chemainus. The Cowichan Valley Trail is a multi-use trail that is a part of the larger Trans Canada Trail. This trail runs from Victoria to Nanaimo along the old railway tracks, which are relatively flat and accessible for all abilities. Weddle's Park is another local favourite and is located at Chemainus Lake. This area has a dog park and is great for family walks.
For the anglers coming to Chemainus, you can try your luck fishing at several different spots. The Freshwater Fisheries Society of BC stocks Rainbow Trout at Chemainus Lake and Fuller Lake every year and is right in Chemainus! Of course, there are always the calm waters of Georgia Straight to try ocean angling as well.
Chemainus is your ocean playground. With two beaches right in town, and Kinsmen Beach is a local favorite for picnics and summer fun. Launch your kayak or paddleboards from the beach and enjoy the warm ocean water. If you are looking for some peaceful tranquillity, step down to Cook Beach Park. This beach is generally tranquil and an excellent place to reflect.
A priority for many is the ability to golf year-round. At Mount Brenton Golf Course in Chemainus, you can. This challenging 18-hole course was created in 1948 and is the "most playable course on Vancouver Island." Long fairways are flanked by mature hard and softwoods trees providing ample shade in the summer.
Recreational opportunities are ample in Chemainus. Grab yourself a Backroad Mapbook and start exploring all of what the Cowichan Valley has to offer.
Chemainus Real Estate Market
In Chemainus, you will find a mix of executive waterfront homes, acreage properties, character homes, apartment homes, and townhouses. Chemainus truly has everything.
Near the downtown core of Chemainus, character homes and single-family homes are most common. There are newly built homes in the west area of Chemainus, and most of them provide attached garages. Furthermore, since this neighbourhood is high elevation, some of these homes boast beautiful ocean views. At the north end of Chemainus, there are larger properties with dwellings or manufactured homes on them. If you prefer a quiet and limited number of neighbours this area is for you.
Chemainus Realtors
Are you thinking of buying or selling a home in Chemainus? If you're looking to buy a home, contact our Loyal Homes real estate agents, who can answer all your Chemainus community, neighbourhood, and real estate questions.
If you're thinking of selling your Chemainus, BC home, our associated Listing Realtors can provide information on recently sold comparable properties, up-to-date real estate market information, and professional tips to help you prepare and sell your house for top dollar.