South Alberni Houses for Sale
Search all South Alberni houses for sale and real estate listings below. South Alberni is a quieter neighbourhood in Port Alberni, BC, known for its slower pace of life, locally-owned boutiques and shops, and outstanding views of Mount Arrowsmith and the Alberni Inlet. Families enjoy South Alberni for its good schools, grocery stores, locally-owned shops, and many parks and trails. Anything else needed is less than a five-minute drive away.
Properties within South Alberni are diverse. Character homes from the 1940s are found alongside brand-new modern builds. Most homes are single-family houses or duplexes with some condominiums and townhouses. Split levels with garages, ranchers, and two-storey homes are common builds along heritage homes. To request up-to-date information about properties for sale in South Alberni, or to arrange a private showing, contact your Port Alberni real estate experts today!
Newest South Alberni Real Estate Listings
South Alberni Real Estate Listings
October 2, 2023
South Alberni Real Estate Listings by Price
Real Estate in South Alberni
Most of the real estate in South Alberni is residential with some commercial and industrial properties in bustling pockets and tourist destinations.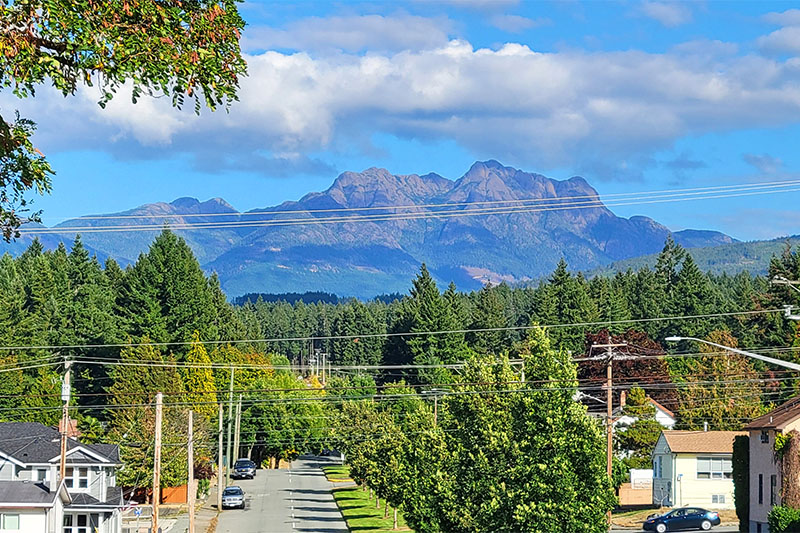 In 2022, the number of homes sold in South Alberni was 82 single-family homes. According to the statistics provided by the Vancouver Island Real Estate Board (VIREB), the average list price for these homes was $561,860, while the average sale price was $566,450. On average, homes in South Alberni sold at 101% of their listed price. The average time it took for homes to sell in South Alberni was 35 days in 2022.
The residential properties are a mixture of suburban homes, townhouses, multi-homes, condominiums, apartments, land, and many offer a view of the inlet or Mount Arrowsmith. There are a variety of character homes, new builds, and subdivisions to choose from in the residential areas. Character homes dating as far back as the 1940's can be found along brand new, top of the line homes, demonstrating the variety of architectural styles.
Mid-century modern designed houses are among the most popular. Still, you will also come across craftsman, colonial, and other mixed styles. Duplexes, triplexes, and other multi-family units usually mimic these styles. Several condominiums, townhouses, and apartments are also found within South Alberni. Water-view properties are relatively common, especially those found in Cameron Heights.
The popular Uptown area is concentrated near the intersection of Third Avenue and Argyle Street. This area offers commercial real estate options such as restaurants, retail locations, financial institutions, and offices. The Uptown area has seen a revitalization in recent years with more varied store options, markets, and new businesses setting down roots. At the base of Argyle Street is the Harbour Quay - a major tourist destination and favourite for locals. Other South Alberni non-residential real estate listings include grocery stores, financial institutions, industrial buildings such as lumber mills, and marinas. The Arts District also contains entertainment venues that provide live and filmed productions.
About South Alberni
South Alberni is mainly a quiet, residential area with access to an Uptown core with shops, boutiques, restaurants, farmer's markets and festivals. Nestled along the waves on a gentle incline, many homes benefit from beautiful views of the Alberni Inlet and experience the ocean's refreshing late afternoon breeze in the summer months. Turning away from the water, you are greeted by the snow capped peaks of Mount Arrowsmith. This neighbourhood is positioned mainly on one end of the city, with Ship Creek Road leading out towards Bamfield. It has easy access to the rest of the city's amenities, but can hold its own balance between tranquillity and functionality.
Several schools are located within South Alberni, along with some large parks and playgrounds. As a neighbourhood on one of Port Alberni's borders, traffic is mainly caused by residents, which makes the overall area easy to drive and relatively quiet. Families appreciate this area for these reasons and the convenience of a local grocery store and gymnastics academy.
Most homes have a waterfront view, mountain view, or both! Greenery from bordering forests and tree-lined streets set the tone for this area as a welcoming, pristine, peaceful place to live with access to a lively community and diverse choice of shops and things to do. The unusually wide roads are a historic reminder of Port Alberni's vibrant logging days, where logging trucks roamed up and down the main streets. Now, they are the perfect roads for a leisurely drive or as a base for a summer market.
The marinas are an amenity enjoyed by locals and visitors. It is so beautiful on the waterfront that some people choose to live in their boats year-round. Others prefer the convenient moorage for spontaneous fishing trips and afternoon boat rides.
Things To Do in South Alberni
The Arts District Entertainment
The Arts District is home to the historic Capitol Theatre which opened on May 16, 1936. It puts on many fantastic plays. It is just around the corner from the bustling Third Avenue Uptown area, where many small businesses have unique shops and food options to choose from. Just across the street is the Landmark Cinema for blockbuster movies, and Char's Landing, a historic renovated church that is now a venue for live entertainment, bar and lounge, and offers accommodations for travellers.
The Harbour Quay
The Harbour Quay is a major focal point in South Alberni, where locals come together to enjoy festivals, Spirit Square Farmers' Market, local eateries, or hang out by the seaside playground with their children. There is something for everybody, from a creamy ice cream cone to a high-class waterfront restaurant meal at the base of an impressive clock tower. Many locals are fond of grabbing a coffee and a freshly made doughnut from the Donut Shop, then exchanging conversations or climbing the Clock Tower for a view all the way down the inlet.
The Starboard Grill is fine dining at its best, with its award-winning candied salmon chowder. A couple of harbours house fishing and recreational boats for easy access to preferred fishing areas like China Creek, Kildonan, Bamfield, and beyond. Children playing in the park have a view of the nearby Maritime Discovery Centre and its impressive lighthouse.
Shop Until You Drop at Uptown
The Third Avenue area is a vibrant shopping district. You'll find a family owned butcher shop, banks, coffee shops, restaurants, a yoga studio, hair salons, and so much more. Where Third Avenue meets Argyle Street, you can go down towards the Harbour Quay or go up a bit for the Arts District containing a couple of theatres and Mount Arrowsmith peaking over the hill. In the summer, the street gets closed off for a farmers market filled with local artisans, produce, and live music. It is the hustle and bustle core of the commercial area, with everything you need conveniently packed in one place.
Quirky coffee shops and stores like a family-owned butcher, bookstore, kitchen supply store, fashion stores, antique shops, thrift stores, and more are all found within Uptown. A local brewery is a fantastic place to take a rest, especially on their rooftop patio, where views of the Alberni Inlet can be enjoyed with some friends.
Canal Waterfront Park
Canal Waterfront Park is a newer addition to the many parks in the area. This park has beach access, a community fire pit, a large field, free parking, volleyball court, and a gazebo ideal for groups. Many locals enjoy relaxing on a bench watching the sunset over Arbutus Ridge, laying out a blanket on the beach to sunbathe, playing ball with their dog, and using it as a base for water sports like kitesurfing. Away from traffic, it is a serene place to relax with a cup of coffee after work or on a day off. All you hear is the ocean waves and other locals having a good time.
Hiking Trails & Walking Paths
The start of the iconic Alberni Inlet Trail can be found on Ship Creek Road. This is an approximately 14 km hiking trail that offers amazing views of Mount Arrowsmith, the Alberni Inlet, and the city itself. Enthusiastic hikers can follow the path all the way to Franklin River, but many locals enjoy shorter durations to take advantage of the spectacular views. The trail passes through a forested area, crosses over a couple of logging roads, and reaches a max elevation of about 1400m above sea level.
Another popular walking path is the Maquinna Trails which is located near a couple of elementary schools. This trail is more user-friendly with wide, flat paths and is quite popular with dog walkers. This is another fine choice for those wanting to take a slower pace, hear the birds chirping, and breathe in the fresh forest air.
Search Houses by Neighbourhood in Port Alberni, BC