Echo Houses for Sale
Search all Echo houses for sale and real estate listings below. Echo is a central neighbourhood in Port Alberni, BC, popular with seniors and families. It is one of the oldest and more established areas containing amenities such as a swimming pool, museum, library, medical offices, sports fields, retirement homes, and Alberni District Secondary School. Many affordable homes are available within Echo.
Townhouses, condos, duplexes, and single-family homes built between the 1960s and 1990s comprise the majority of homes for sale. Many homes are in the mid-century style and have been renovated throughout the decades while retaining their original charm. To request up-to-date information about properties for sale in Echo, or to arrange a private showing, contact your Port Alberni real estate experts today!
Newest Echo Real Estate Listings
Echo Real Estate Listings
December 7, 2023
Real Estate in Echo
In 2022, Echo witnessed the sale of 25 single-family homes. As per the statistics provided by the Vancouver Island Real Estate Board (VIREB), the average list price for these homes was $555,965, while the average sale price amounted to $566,040. On average, homes in Echo sold at 102% of their listed price. The average time it took for homes to sell in the neighborhood was 31 days, highlighting a relatively swift turnaround for properties in Echo.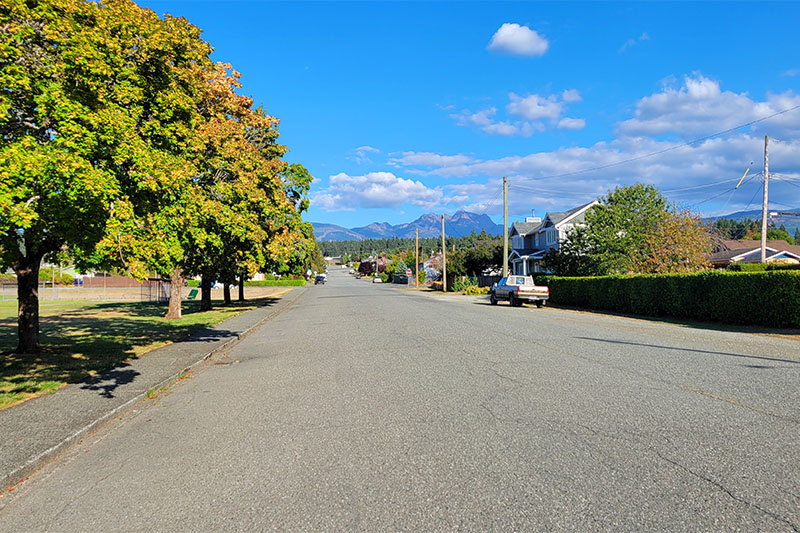 As one of the oldest, most established areas, Echo has some of the most varied real estate listings in all of Port Alberni. Its central location contains mainly residential homes, single-family suburban homes, duplexes, triplexes, condominiums, townhouses, and some commercial properties.
As an established neighbourhood, homes in Echo are well maintained, strong builds. There are some newer builds directed towards seniors and retirees, but most are single-family suburban homes. Pioneer Towers (senior housing) and Alberni Towers (12 story high-rise) are the largest multi-unit residential properties, with the rest being a mix between single-family homes, ranchers, duplexes, condos, and more.
Single-family homes in Echo are usually seen as mid-century modern designs, often with interior renovations over the years. Some newer homes have been built or renovated to contain a craftsman-style design. Most homes are two-storey, often with a single-car garage.
Commercial properties are distributed mainly in high traffic areas, and are dominated by small businesses and health facilities like doctor and dentist offices. Roger Street and Redford Street border the neighbourhood on opposite ends with 10th Avenue connecting them. Most commercial properties are found on one of these three roads, streamlining traffic to follow a particular route when shopping around. However, there are some smaller commercial properties on side streets, mixed in with residential housing. Many homes are within walking distance of some sort of commercial property, which makes them ideal properties to invest in.
About Echo
Echo is a desirable, central location in Port Alberni favoured for its combination of good quality homes, choice of recreational activities, and convenient amenities. Seniors, singles, and families of all sizes enjoy this area for its easy access to grocery stores, drug stores, good quality schools, doctor offices, West Coast General Hospital, restaurants, Echo Aquatic Centre, and fitness facilities. The RCMP have a local detachment in this area, making it all that more safe.
As an older area of town, homes are relatively more affordable in Echo despite their desirable location. Many of these homes have been renovated over the years and still offer great value for growing families. Retirees are also fond of this area for the senior's housing complexes, care homes, and age-appropriate recreational options such as swimming and the Sunshine Club.
The Alberni District Secondary School is one of several schools in the area, including Wood Elementary School and St. John Paul II Catholic School. Several restaurants and fitness facilities border the neighbourhood on most sides. With its abundance of amenities and recreational activities, this neighbourhood has historically been known as a preferred place to set down roots, raise a family, and retire in peace. Islands recreational paradise!
The large sports fields, indoor swimming centre, and nearby facilities such as Bob Dailey Stadium, the Alberni Athletic Hall, and the Alberni Valley Multiplex further add to the value of this area for those that enjoy staying fit. All these amenities are concentrated within Echo and expand on its border into nearby Glenwood, making it great for families, retirees, and children alike.
Things To Do in Echo
Echo '67 Community Centre
The Echo '67 Community Centre was constructed in 1967 and stands as one of the historic landmarks of the area. This building contains an aquatic centre, sauna, gym, library, museum, and community spaces for special events. Often events such as book sales, plant sales, bake sales, and registered programs take place within the event centre section of the building. These events are put on by numerous organizations, including the Sunshine Club - a wellness club designed for those aged 50+.
The Echo Aquatic Centre contains a 121 foot pool, a warmed tot's pool, whirlpool, dry sauna, and fitness centre. It is the home of the Tsunami Swim Club, where competitive swimmers get their start. Swimming lessons, aqua fitness classes, and safety classes occur on a regular basis.
The mid-section of the community centre is a rental space for special events and gatherings. Further along is the Vancouver Island Regional Library and the Alberni Valley Museum. The library is one of many branches all over Vancouver Island, with access to the entire collection. A book in another island branch can be transported conveniently to Port Alberni within days. The museum has a rich collection of First Nations artifacts and Port Alberni's historical culture.
Bob Dailey Stadium & Glenwood Centre
Bob Dailey Stadium is a 400m long, oval track with a large field in the middle. Soccer and football games are played on the field while friends and family watch nearby from the wooden bleachers. The soft track is gentle on joints compared to concrete or cement sidewalks, which makes it an ideal place to get in your steps for the day. The track area is suitable for walking, jogging, running, and other group activities. Many locals routinely stop at Bob Dailey on their way home from work to get a few laps in, catch up with other residents, or to relax on the bleachers with a coffee while they look at Mount Arrowsmith. Adjacent to the track is an outdoor fitness park, suitable for all fitness abilities because it uses the person's own body weight for individualized training.
A stone's throw away is Glenwood Centre, a large indoor venue for sports and events. Known as the place for rollerskating and rollerblading, Glenwood has also been a site for the Port Alberni Toy Run, Alberni District Fall Fair, craft fairs, markets, and special events. The building has a raised stage, is wheelchair accessible, and has an optional concession making it perfect for home shows, dog shows, and more. It's a multi-purpose space that adapts well to almost any indoor gathering event.
Echo Sports Fields
Echo is known for its abundance of sports fields popular for softball, baseball, and soccer. Warmer months offer bustling activity for slo-pitch and softball tournaments, and the Funtastic music festival hosts shows nearby at Bob Dailey Stadium. It's not an uncommon sight to see local kids kicking around a soccer ball after school one day, then a full-blown softball tournament the next.
Enjoy a Variety of Cuisine
Are you a bit of a foodie? There are a few small restaurants within Echo, many of which are locally-owned businesses offering a variety of cuisines. Asian, Italian, pizza, vegetarian, and Indian cuisine are some options. These are mainly located along 10th Avenue near Roger Street or farther down near Redford Street. Even more of a selection is available as you extend into adjacent neighbourhoods.
Sunshine Club
Seniors aged 50+ are invited to join the Sunshine Club. This volunteer driven organization provides recreational activities and get-togethers to improve quality of life. Appropriate for all fitness and mobility levels, the club offers programs like quilting, Tai Chi, bowling, pickleball, painting, dancing, bridge, woodworking, and so much more. It's a no-brainer to join the Sunshine Club as soon as you hit 50 because of the huge variety of things to do, places to go, and people to see!
Search Houses by Neighbourhood in Port Alberni, BC