Cherry Creek Houses for Sale & Real Estate
Search all Cherry Creek houses for sale and real estate listings below. Cherry Creek is a relaxed, rural neighbourhood in Port Alberni, BC, known for its countryside setting, beautiful views of the Beaufort Range, and close-knit community. Without question Cherry Creek is the most sought after neghbourhood in the Alberni Valley, enjoying a golf course, motocross track, and hiking trails like the Alberni Lookout Trail, Hole in the Wall, and the Log Train Trail.
Most houses for sale are single-family homes on large lots or acreages, with some scattered manufactured homes and duplexes. If you are interested in countryside living, whether as a hobby farm or a quiet place to settle down, Cherry Creek is a great option. To request up-to-date information about properties for sale in Cherry Creek, or to arrange a private showing, contact your LOCAL Port Alberni real estate experts today! Read more about Cherry Creek real estate.
Newest Cherry Creek Real Estate Listings
Cherry Creek Real Estate Listings
December 7, 2023
Cherry Creek Real Estate Market
In 2022, Cherry Creek had 8 single-family homes sold, largely becuase homes rarely come up for sale. The average list price for these homes was $875,090, while the average sale price amounted to $841,875. On average, homes in Cherry Creek sold at 96% of their listed price, indicating a slight negotiation between buyers and sellers. The average time it took for homes to sell in the neighborhood was 43 days.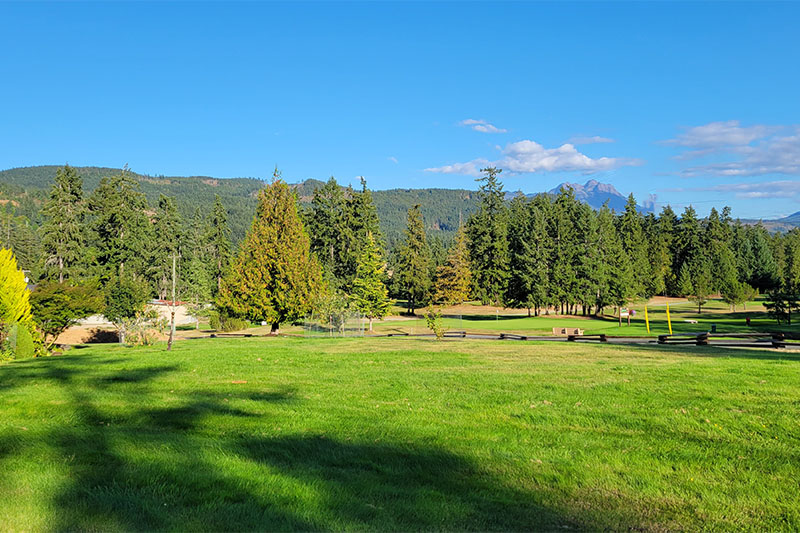 Real estate in Cherry Creek rarely comes for sale. Cherry Creek is without question one of Port Alberni's most desirable rural neighbourhoods. Small acreage homes or houses on large lots are the norm in Cherry Creek and many have beautiful views of pastureland or surrounding mountains. In addition to small acreage homes, Cherry Creek also enjoys hobby farms, a very few larger farms, and very rarely bare land for sale.
Cherry Creek in the Alberni Valley is a very well-suited neighbourhood for families, professionals of all ages, couples just beginning their lives together and retirees alike. It is a place where the pace of life is a little slower, and the sun seems to shine a little more often. To the lucky few who are able to buy real estate here, Cherry Creek is their very own piece of paradise.
"Cherry Creek is quite simply the neighbourhood that everyone in Port Alberni secretly wishes they lived in," says Chris Fenton longtime local real estate agent "It's so peaceful you feel like you're in a hallmark card, but it's also so incredibly close to the amenities of North Alberni."
Cherry Creek Real Estate Acreage
While Cherry Creek doesn't have as many large acreages as nearby Beaver Creek, there are a few larger parcels that come on the market from time to time. Smaller 1-2 acre homes are far more common in Cherry Creek. Browse the listings above to see what is currently available, and if you'd like us to keep an eye out for new acreages coming on the market fill out your personalize home search.
About Cherry Creek
As you meander off the mountain that winds into the Alberni Valley, one of the first neighbourhoods you encounter is the aptly named Cherry Creek. This unassuming area is easy to miss if you don't know that it is there, and many locals are happy to keep it that way. But with more and more travellers stopping in Port Alberni on their way to explore the wild West Coast, it was inevitable that the secret would eventually be revealed.
Cherry Creek, in the Alberni Valley, is one of the quaintest, most laid-back places on all of Vancouver Island. It's the kind of place where you are just as likely to see a tractor puttering down the road on an early fall morning, as riders on horseback or even a chicken (or a peacock!) crossing the road. The kind of place where you might wake up to the sound of a rooster crowing and go to sleep to the sound of crickets chirping. In a lot of ways, Cherry Creek personifies Vancouver Island and the slower paced lifestyle we locals strive for.
Things To Do in Cherry Creek
At the centre of this rural/semi-rural lifestyle is Cherry Creek Hall, which is right across the road from the Cherry Creek Volunteer Fire Department. Other notable gathering spots are the Emerald Coast Vineyards & Wine Shop and the famed Coombs Country Candy. You are spoiled for choice when it comes to an after work treat when you choose to purchase real estate in Cherry Creek. Whether it be a glass of chardonnay or a cup of handmade gelato you will enjoy it all the more knowing it comes from locally owned and operated small businesses, and helps our local economy thrive!
Cherry Creek is home to the Alberni Golf Club – the Alberni Valley's premiere golf course. This traditional Par 70 golf course was founded in 1920. Nestled among the evergreens, with the majestic Mount Arrowsmith providing a picture-perfect backdrop, the Alberni Golf Club attracts golfers from around the world. With gorgeous greens, a dynamic driving range and a quaint clubhouse that is home to a pub, restaurant and gift shop, an entire afternoon can be spent exploring the resort-like grounds. Golfers are truly spoiled in Port Alberni as the land is immensely vast, with too many shades of green to count, and when the fog & mist roll in during your early morning tee off, it is strikingly like the land where golf originated!
If golf is not your game, perhaps motocross is! Cherry Creek is also home to the Alberni Valley Motocross Track. A place where the peace and tranquility are shattered by two-stroke engines and people having a raucous good time! But don't worry, the track is far enough out of the way to not disturb any of the serenity. The sweeping landscape of the Alberni Valley provides plenty of space to be as loud as you'd like without being disruptive to others.
When an afternoon walk or a weekend hike are in order, the choice for trails is endless. Literally, endless! The world famous 22km Log Train Trail begins in Cherry Creek and takes you on different spurs that will lead you to one of the countless entrances/exits that pepper the length of the trail system. If you want a slightly more challenging slope to rip your calves, head up to one of the most iconic vistas in the Alberni Valley, a trail we locals refer to simply as the Lookout. There is no other vantage point that provides a more complete picture of our Valley, though you may have to stop to catch your breath before the view takes it away all over again. For a much more family friendly trail, the iconic Hole in the Wall has fast become a must visit destination for travelers who need to stretch their legs. It is like stepping into a place frozen in time and it is easy to imagine yourself in a prehistoric era when you are in the ravine made up of shale and rock. Travelers and locals alike have contributed to an ever-growing collection of Anuks, which add to the ambience of a bygone era.
There is no other neighbourhood anywhere in Port Alberni that shouts in a whispered tone, "Welcome Home," quite like Cherry Creek!
Cherry Creek Real Estate Agents
Looking to purchase a home in Cherry Creek? Let our Cherry Creek real estate experts guide you through the sale of your current residence or the purchase of your new Cherry Creek property. As local real estate agents, we have insider knowledge of the dynamics unique to Cherry Creek real estate.
Connect with The Fenton Group to get more information about buyer or seller representation. Selling your Cherry Creek property? Visit our market analysis page to receive a free home value estimate.
Search Houses by Neighbourhood in Port Alberni, BC