Houses for Sale in Beaver Creek, BC
Search all Beaver Creek houses and acreages for sale below. Beaver Creek is a diverse neighbourhood in Port Alberni, BC. Beaver Creek is considered a rural neighbourhood and is popular among those seeking acreage or a little more space. The Stamp and Somass rivers run through Beaver Creek, and further north, beautiful mountains act as a backdrop.
Real estate is diverse in Beaver Creek. Large houses on acreage with detached workshops, gardens and storage are common. Houses range from ranchers and character homes to modern craftsman-style residences. There are several manufactured home parks in Beaver Creek for low-maintenance living, including Creek's Edge Manufactured Home Park, Maple Grove Mobile Home Park and Lazy Wheel Manufactured Home Park. To request up-to-date information about properties for sale in Beaver Creek, or to arrange a private showing, contact your Port Alberni real estate experts today! Read more about Beaver Creek Real Estate.

Newest Beaver Creek Real Estate Listings
Beaver Creek Real Estate Listings
October 2, 2023
Beaver Creek Real Estate Listings by Price
Beaver Creek Real Estate
In 2022, Beaver Creek saw 44 single-family homes sold. According to the Vancouver Island Real Estate Board (VIREB), the average list price of these single-family homes was $802,970, while the average sale price stood at $784,489. Homes in Beaver Creek sold at 98% of the listing price, and the average time to sell was 42 days in 2022.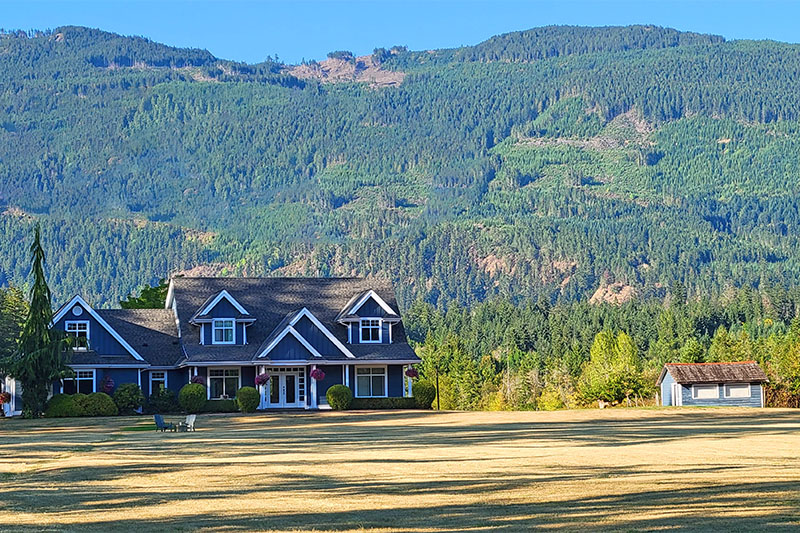 Properties in Beaver Creek are as diverse as the land itself. There are large farm operations, campgrounds, acreages, multifamily apartment units, several mobile home parks, industrial businesses, and small hobby farms. What ever opportunity you are looking for in this biodiverse region of the Alberni Valley, you'll find the potential in Beaver Creek.
Real Estate in Beaver Creek is normally serviced through individual private septic systems and either community water or private well systems. Beaver Creek falls under the Alberni-Clayoquot Regional District and is served by the Beaver Creek Volunteer Fire Department.
Beaver Creek begins just outside of Port Alberni City Limits and stretches well over 10kms to Stamp Falls, the Angler's Trail and beyond. No matter where you choose to purchase along this delightful stretch of road, you will be sure to enjoy the spectacular Vancouver Island lifestyle.
About Beaver Creek
Beaver Creek is the Alberni Valley's largest and most diverse rural neighbourhood. It is framed to the west by the stunning Somass and Stamp Rivers. These rivers offer those lucky enough to ply them, some of the best fresh water steelhead and salmon fishing in the world.
Locals and tourists alike know the Stamp River for another reason – white water rafting. Well actually you're more likely to see groups of people laughing their way down the river on inner tubes than on rafts, which is a testament to the areas industrial heritage. If you do decide to go for a tube ride, make sure you know the river first because there are dangers.
To the east, Beaver Creek is framed by the majestic Beaufort Mountain Range. Running along the foot of these mountains is the iconic 22km long Log Train Trial. The Log Train Trail passes right by McLean Mill Historical Site, a former 20th century sawmill and logging operation, located on 13 hectares of forested land. Further up the long road you will find Stamp Falls Provincial Park, a world-renowned nature reserve that is a must visit destination for anyone visiting the Alberni Valley.
But at the heart of Beaver Creek is the people. Creekers, as they are called locally, are honest, humorous, friendly and hardworking people. In Beaver Creek you will find properties ranging from large farms to small hobby farms, modest family homes to some of the most beautiful estates in the Alberni Valley. A trip out Beaver Creek will have you just as likely to see riders on horseback along side the road as not.
Beaver Creek is Vancouver Island living the way it ought to be. It represents an outdoor lifestyle and culture that is unique to our Island. So come and visit and spend a day, or more, exploring Beaver Creek.
Things To Do in Beaver Creek
Beaufort Range and Log Train Trail
Beaver Creek runs along the base of the breathtaking Beaufort Range. The highest peak of the Range is Mount Joan, standing a dominating 5105ft above sea level. Meandering through Beaver Creek is the historic 22km long Log Train Trail. The Log Train Trail began as part of the Bainbridge Mill rail logging operation, being abandoned when the mill closed in 1927. The Port Alberni Equine Society have been pivotal in the Trail's revitalization and maintenance. The Trail is a multiuse pathway that is utilized by Alberni Valley hikers, horse riders, fur & human parents and cyclists alike.
McLean Mill
McLean Mill Historic Park is a world famous destination that has recently opened a multiuse campground, provides a stunning wedding venue, has daily tours and is a throw back to a bygone era at the turn of the 20th century. There are original buildings still standing that have been frozen in time with authentic décor to send your imagination soaring. Creating a genuinely unique experience at certain times of the year, you can board the steam train from the historic train station in the heart of Port Alberni, over some towering and historic train trussells, all the way to the Mill. If you are lucky, or perhaps unlucky, you may even be held up by the notorious horse mounted thieves, the Beaufort Gang, so don't travel any precious gems unless you want them stolen by the infamous train robbers.
Stamp Falls Provincial Park
Beaver Creek's most popular attraction is without doubt Stamp Falls Provincial Park. Stamp Falls Provincial Park is home to a river side campground and what is arguably the most beautiful old growth hike in the Alberni Valley - the Stamp Long River Trail. But the focal point of the park is the mighty Stamp Falls themselves. If you visit in the early autumn you will witness one of this earths greatest wonders as thousands of Pacific salmon jump the falls, or use the nearby fish ladder, to return home to spawn. Along the Somass River in the Beaver Creek area you will find Paper Mill Dam which provides a beautiful river front beach and a great park for picnics. Here the adventurous can even snorkel with the massive Chinook Salmon.
Search Houses by Neighbourhood in Port Alberni, BC