Homes for Sale in Salmon Arm, BC
Welcome to Salmon Arm! Below you will find the newest homes for sale and real estate in Salmon Arm, BC. If you would like more information on any of these Salmon Arm real estate listings, simply click on the property, register for a free account, and you'll have access to the full details. From there, you can click Schedule a Tour to request more information from our Loyal Homes Client Care Coordinators or schedule a viewing. Our Client Care Coordinators will be happy to provide you with property disclosure statements, past sales history, comparable properties which have recently sold nearby, and more, so please don't hesitate to ask for help!
For your convenience, we have included Salmon Arm community information at the bottom of the page, including directions for getting here and information about weather, culture, healthcare, recreation, schools, and the real estate market.
Newest Salmon Arm Real Estate Listings
Salmon Arm
November 27, 2021
About Salmon Arm, BC
Salmon Arm is a small city located in the Southern Interior of BC, right on Shuswap Lake. It is conveniently located around the midpoint between Vancouver and Calgary on the Trans-Canada Highway. Salmon Arm has a strong economy, a low cost of living, and a great climate—making it an ideal destination for young families, retirees, and outdoor enthusiasts alike.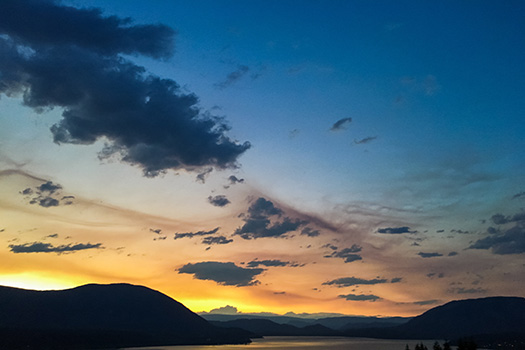 Salmon Arm was named after its location on Shuswap Lake. The different sections of lakes are commonly called "arms," Salmon Arm is located near the lake's southern arm, named after large salmon runs in nearby creeks every fall.
Salmon Arm has some of the most interesting history of any community in BC. It was a stop on the railway, then a gold mining destination, followed by an important fruit-growing area in the early 1900s. Former Prime Minister Pierre Elliott Trudeau famously gave demonstrators the finger in Salmon Arm—a story that locals are still proud to tell. In the summer months, Salmon Arm is a vibrant city enjoyed by locals and tourists alike.
Getting to Salmon Arm
Salmon Arm's popularity as a summertime destination is fueled by how conveniently situated it is. Kamloops is a short hour and fifteen-minute drive west along the Trans-Canada Highway. To the south, it's forty-five minutes on BC Highway 97 to Vernon and an hour and a half in the same direction to get to Kelowna under ideal driving conditions.
Salmon Arm Airport is a small airport mainly used by private planes, recreational aircraft, and helicopters. The most extensive nearby options are at Kelowna International Airport, which is only seventy minutes from Salmon Arm by car for commercial flights. Kelowna International Airport offers frequent flights to major Canadian cities, including Vancouver, Toronto, Calgary, Edmonton, and some options in the United States and Mexico.
Salmon Arm Weather
In Salmon Arm, there are four distinct seasons, with warm summers and winters that are chilly without getting too cold. Daily high temperatures often hit the high twenties in July and August, and residents head to Shuswap Lake for some swimming, boating, and watersports.
Daily low temperatures are often right around freezing in winter months, though temperatures do occasionally plummet during cold snaps. It snows about once every three days in December and January, and there is excellent cross-country skiing in the Shuswap area. Silver Star's excellent powder is a relatively short drive as well.
Salmon Arm Culture
Salmon Arm is a fun place to be in the summer. In July and August, tourists and residents of nearby communities head to Salmon Arm to enjoy the provincial parks, wineries, and of course Shuswap Lake. Each year mid-way through August, the Salmon Arm Roots and Blues Festival attracts big crowds of music lovers and showcases a mix of local and international talent. It has evolved into the biggest musical festival in BC's interior.
Another annual artistic event that's popular is the Shuswap Word on the Lake festival every spring. At the Shuswap Theatre, plays and other performances are often put on. Salmon Arm's biggest museum is the RJ Haney Heritage Park and Museum, which—in addition to its exhibits—puts on theatrical performances about the area. Another important aspect of local culture is the city's love for sports, especially hockey. Taking in a Salmon Arm Silverbacks game at the Shaw Centre is a popular local pastime.
Salmon Arm Education
Public schools in Salmon Arm fall under School District 83, which also operates the schools in nearby communities of Enderby, Armstrong, Tappen, Sicamous, Falkland, Grindrod, Celista, and Sorrento.
In Salmon Arm, five primary schools run from K-7, a single middle school, and one high school with two locations. Okanagan College has a Salmon Arm campus for post-secondary education. This college offers small class sizes and solid options for university credit courses that can be transferred to other post-secondary institutions, later on, offering a convenient and affordable way to study close to home.
Salmon Arm Health Care
Health care in Salmon Arm is provided by Interior Health—the BC health authority that serves the southern interior portion of the province. There's one hospital in Salmon Arm—Shuswap Lake General Hospital, and it's a level two community facility with an emergency, obstetric, inpatient, and surgical services. Patients requiring more specialized care are often redirected to Kelowna General Hospital.
Things to Do in Salmon Arm
The most popular attraction in Salmon Arm is undoubtedly heading to Shuswap Lake, which is considered one of the top lakes for swimming in the province. The water is warm and clear, and there are little sandy beaches to be found. One enjoyable activity on the lake is to get a group of friends together and drift around on a houseboat.
The Salmon Arm Wharf holds the distinction of being the largest wooden wharf on the continent. It stretches way out onto the water, a nearly 4-kilometer trip, where you'll see plenty of birds, including eagles, herons, and white pelicans.
The Salmon Arm area is well-known for its local fruit and its grapes, and you'll want to check out some of the wineries in the area. Larch Hills Winery is a high elevation winery that has nice views and offers free wine tastings.
Salmon Arm Real Estate Market
Salmon Arm is well-equipped for a city of its size—offering excellent recreational opportunities and solid options in terms of shops and amenities. In Salmon Arm, scenic and laid-back living is available to those with a wide range of budgets. Its proximity to nearby cities and lakefront properties make it an attractive option for vacation homes and luxury estates.
Property investors will find large two-storey single-family homes built in the 1960s and 1970s often situated on large lots—a half-acre or more. These properties are a great option for growing families and real estate investors who want to create income-producing suites. For investors on limited budgets, retirees, or those looking to downsize, there are very affordable mobile homes available in the Evergreen Mobile Park centrally located and well-maintained.
On the other end of the spectrum, some truly stunning Mediterranean-style properties are available slightly outside the city centre near Salmon Valley and Mount Edna. These offer large acreage, pools, and even farmland. Large shovel-ready properties are available for those with plenty of ambition and vision that can allow real estate investors to build their dream.
Salmon Arm Realtors
Are you thinking of buying or selling a home in Salmon Arm? If you're looking to buy a home, contact our Loyal Homes real estate agents, who can answer all your Salmon Arm community, neighbourhood, and real estate questions.
If you're thinking of selling your Salmon Arm, BC home, our associated Listing Realtors can provide information on recently sold comparable properties, up-to-date real estate market information, and professional tips to help you prepare and sell your house for top dollar.