Homes for Sale in Osoyoos, BC
Welcome to Osoyoos! Below you will find the newest homes for sale and real estate in Osoyoos, BC. If you would like more information on any of these Osoyoos real estate listings, simply click on the property, register for a free account, and you'll have access to the full details. From there, you can click Schedule a Tour to request more information from our Loyal Homes Client Care Coordinators or schedule a viewing. Our Client Care Coordinators will be happy to provide you with property disclosure statements, past sales history, comparable properties which have recently sold nearby, and more, so please don't hesitate to ask for help!
For your convenience, we have included Osoyoos community information at the bottom of the page, including directions for getting here and information about weather, culture, healthcare, recreation, schools, and the real estate market.
Newest Osoyoos Real Estate Listings
Osoyoos Real Estate Listings
November 27, 2021
About Osoyoos, BC
With the warmest climate in Canada, Osoyoos' motto, 'Canada's warmest welcome,' accurately depicts this friendly desert community. Located to the east of the Cascade Mountain Range in the southern Okanagan region of British Columbia, Osoyoos is a haven for outdoor adventure seekers, wine connoisseurs, and golf enthusiasts. With a population of 6,800 people, Osoyoos is a beautiful town surrounded by mountains, lakes, and vineyards and is home to Osoyoos lake, which is the warmest freshwater lake in Canada and is enjoyed by thousands of visitors each year.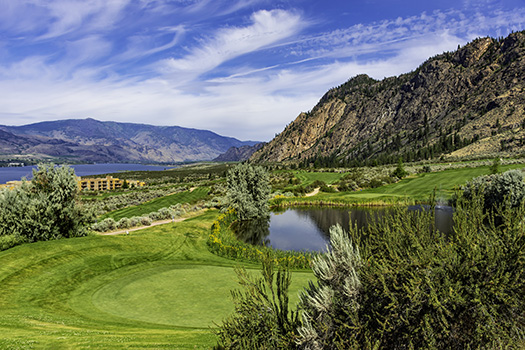 Getting to Osoyoos
Osoyoos is located at British Columbia's southern border. Osoyoos Lake is shared between Canada and the United States and can be accessed from major highways from the north, east, and west. Osoyoos is 125 km (2 hours) south of Kelowna, BC. Highway 97 winds through the Okanagan Valley, providing an opportunity to visit other communities, including Summerland, Penticton, and Okanagan Falls.
The Crowsnest Highway (Hwy 3) is the most efficient route from the west. Osoyoos is approximately 4.5 hours (400 km) from Vancouver, BC. However, the route passes through beautiful E.C. Manning Park. The Crowsnest Highway continues east through Grand Forks and Castlegar towards the Alberta Border. Osoyoos is only 10 minutes north of the United States Border (Washington State).
If you prefer to fly, you can land at either the Penticton Regional Airport (62 km) or Kelowna International Airport (124 km). However, if you choose to drive, it will be hard to resist stopping at many fresh fruit stands and viewpoints.
Osoyoos Weather
Osoyoos, BC, is the perfect location to experience the beauty of the Canadian seasons. From the sun setting over the vineyards in the summer to autumn hikes through endless trails to the first fruits of the spring, to the snow-capped mountains, Osoyoos has it all.
Between the months of June to September is when Osoyoos will feel like a desert. With average highs of 32°C and lows of 15°C, you can enjoy the warmth from dawn to dusk—Osoyoos experience colder months from November to February with average highs of 7°C. Precipitation in Osoyoos is not as expected. The wet season falls between June and October, with more than a 16% chance of rain any given day. The highest chance of precipitation peaks on May 29th with a 24% chance. Summertime is the best time to visit Osoyoos if you plan to enjoy the sun and lake.
As the only desert in Canada, Osoyoos has an average annual rainfall of 318 mm and approximately 2039 hours of sunshine each year.
Osoyoos Culture
Osoyoos is deeply rooted in Indigenous culture. The local language of Osoyoos is Syilx'tsn. Osoyoos' name comes from sẁiẁs (pronounced "soo-yoos"), which translates to "narrowing of the waters." From early on, it was recognized that Osoyoos' climate was ideal for fruit-growing. However, it was not until 1907 when an orchard came into the picture. Where they grew peaches, plums, cherries, apricots, and apples. While grapes are popular in the Okanagan today, grape-growing did not enter the picture until the 1960s. In 1983, Osoyoos officially became a town and now has approximately 5,000 permanent residences.
A visit to the Nk'Mip Desert Cultural Centre and the Osoyoos Museum provides an opportunity to explore the history of First Nations people and European settlers in Osoyoos.
Osoyoos Education
There is one elementary and one secondary school in Osoyoos, BC, and Osoyoos is part of School District 53 (Okanagan Similkameen). For post-secondary education, the Okanagan College Campus in Penticton is a 50-minute drive, and the campus in Oliver is a 20-minute drive.
Osoyoos Health Care
Interior Health provides Osoyoos with comprehensive healthcare. South Okanagan General Hospital and Penticton Regional Hospital are the two closest options for residents of Osoyoos. South Okanagan General is only a 20-minute drive north of Osoyoos, and Penticton Regional is one hour north of Osoyoos.
Several General Practitioners serve the community through privately owned (publicly funded) clinics. Osoyoos also has a 'healthy' community of registered therapists and health practitioners, including chiropractors, acupuncturists, and massage therapists.
Mariposa Gardens Retirement and Care Community, Sunshine Ridge Seniors Community, Elk's Golden Villa, Helping Hands Cleaning & Senior Companion Care provide services and accommodations to the over 55 community.
Things to Do in Osoyoos
Outdoor adventure seekers will find endless opportunities in Osoyoos. There are numerous walking and hiking trails around Osoyoos leading to beautiful lookout points including, Golden Mile Stamp Mill Trail, Spotted Lakes, Anarchist Mountain viewpoint, Pioneer Walkway (a paved trail along the lake), and Mount Kobau Trail (1873 meters above sea level)
Osoyoos lake provides opportunities for children and adults to engage in various water sports, including, Water skiing, Racing through the Osoyoos Wibit (a floating obstacles course), Standup paddleboarding, or simply just lying on the beach and soaking in the Okanagan sun.
In the winter, Baldy Mountain Resort provides a mecca for those who love skiing, snowboarding and snowshoeing and is only an hour's drive from Osoyoos.
With 40 wineries in the region, Osoyoos provides multiple opportunities to socialize with friends and family. Check out Nk'Mip Cellars, the first Indigenous winery in North America. Nk'mp has been operating since 2002. However, the Osoyoos Indian Band has been growing and harvesting grapes since 1968. Osoyoos is also home to Tumbleweed Spirits Distillery (locally made gin, vodka brandy, and whiskey) and Orchard Hill Estate Cidery.
In May each year, many locals partake in the Half-Corked Marathon, a leisurely 21.5 km run through vineyards, and yes, tasting is part of the event!
Spend an afternoon at Osoyoos Golf Club, with 36 holes, panorama views of Osoyoos' desert mountains, neighboring wineries, and Osoyoos lake. You do not need to be a member to enjoy the course, although one visit and you might not be able to resist the membership. Tee-times can also be made at Sonora Dunes or Nk'Mip. Check out the Interactive Map of things to do in Osoyoos.
Osoyoos Real Estate Market
Retirees dominate the real estate market in Osoyoos; therefore, smaller detached homes, townhomes, and condos are typical in the region. If you are looking for a large luxury lake view property for all the grandkids or family to visit, Osoyoos offers that too! You will indeed find all sizes and styles of homes in Osoyoos.
Ask your realtor to show you a rancher with a giant sundeck overlooking Osoyoos Lake or a multistorey home on a small orchard. The Oasis is a manufactured home park that is located on the east side of the lake. Larger luxury estates can be found south of Osoyoos Golf Club. Some of these homes feature attached triple car garages with panoramic views of the valley and lake.
More central in Osoyoos apartment buildings and townhome complexes can be found, allowing homeowners to spend more time enjoying the outdoors and less time maintaining their property. If you prefer to be away from the hustle and bustle, buy property north of Osoyoos along the lake!
Osoyoos Realtors
Are you thinking of buying or selling a home in Osoyoos? If you're looking to buy a home, contact our Loyal Homes real estate agents, who can answer all your Osoyoos community, neighbourhood, and real estate questions.
If you're thinking of selling your Osoyoos, BC home, our associated Listing Realtors can provide information on recently sold comparable properties, up-to-date real estate market information, and professional tips to help you prepare and sell your house for top dollar.