Homes for Sale in Keremeos, BC
Welcome to Keremeos! Below you will find the newest homes for sale and real estate in Keremeos, BC. If you would like more information on any of these Keremeos real estate listings, simply click on the property, register for a free account, and you'll have access to the full details. From there, you can click Schedule a Tour to request more information from our Loyal Homes Client Care Coordinators or schedule a viewing. Our Client Care Coordinators will be happy to provide you with property disclosure statements, past sales history, comparable properties which have recently sold nearby, and more, so please don't hesitate to ask for help!
For your convenience, we have included Keremeos community information at the bottom of the page, including directions for getting here and information about weather, culture, healthcare, recreation, schools, and the real estate market.
Newest Keremeos Real Estate Listings
Keremeos Real Estate Listings
November 27, 2021
About Keremeos, BC
Keremeos is a quaint village in British Columbia's Southern Interior. Nestled in the Similkameen Valley, Keremeos is the valley's second-largest village, with a population of almost 1,300. It is now known as the fastest-growing village in BC!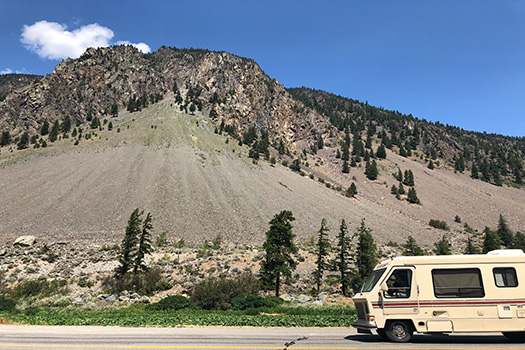 Set against the stunning backdrop of mountains and the Similkameen River, this beautiful agricultural community is filled with orchards, vineyards, and farms that produce a plethora of vibrant fruits and vegetables. Keremeos has appropriately been dubbed the Fruit Stand Capital of Canada and attracts visitors from all over to its many fruit stands and farmers' markets.
The name Keremeos is derived from the word "Keremeyeus," which comes from the Similkameen Dialect of the Okanagan language of the Indigenous Peoples that lived around the Okanagan and Columbia River Basins. It means "creek which cuts its way through the flats" and refers to the Keremeos Creek that flows down the Similkameen River. This river is the heart of the Similkameen Valley and flows through most of southern BC towards the US border.
Getting to Keremeos
Keremeos is at the intersection of BC Highway 3 and 3A. A car is the best transportation choice for getting to Keremeos, though bus and plane are additional options when travelling from surrounding cities like Vancouver or Seattle. From Vancouver, Keremeos is about 4 hours by car or 5 hours by bus via Mountain Man Mike's Bus Service. Keremeos is a 30-minute drive southeast from Penticton Regional Airport (42 km away) along Highway 3A E. If you're flying into Kelowna International Airport, which provides access from the USA, Keremeos is a 1.5-hour drive south along Highway 97/Okanagan Highway.
Keremeos Weather
The weather in Keremeos is a dream for those wanting to escape extreme temperatures and why many retirees are drawn to living in the Similkameen Valley. Winters are relatively short and cool; temperatures typically don't get lower than -4 °C. With a semi-arid climate, Keremeos' summers are dry and warm, with high temperatures reaching 28 °C and a comfortable average of 21 °C. The total annual rainfall is only 25cm (compared to Vancouver's 146cm)!
Keremeos Culture
Keremeos embodies the warmth and friendliness that small towns are known for. It is a culture of old-charm hospitality, valuing a slower pace of life and enjoying the community. Agriculture and celebrating the rich harvest that comes from its lands are also intrinsic to Keremeos' culture. Ready access to fresh, high-quality produce plays a considerable part in the healthy lifestyle you'll find there.
Keremeos Education
Keremeos falls within the Okanagan Similkameen School District, and Similkameen Elementary/Secondary School serves the students of Keremeos from K-12. The closest post-secondary institutions to Keremeos include Okanagan College in Oliver (60 km away), Okanagan College in Penticton (46 km away), and UBC's Okanagan Campus in Kelowna (121 km away or a 1.5-hour drive).
Keremeos Health Care
Keremeos is part of the Interior Health Authority. South Similkameen Health Centre on 3rd Street is a multi-service centre with offices for doctors, acute emergency services, public and mental health services, counselling for drug and alcohol use, acute emergency services, social work services, X-ray, physiotherapy, and chiropractic health. Community services also include Meals on Wheels, home support, and long-term care services. It also houses Orchard Haven, a 25-bed care facility that offers palliative services and 24-hour complex care.
Things to Do in Keremeos
Thanks to the region's temperate climate, the great outdoors is your year-round playground. "The River," as locals call the Similkameen River, is a spectacular sight that created the valley where Keremeos resided over 200 million years ago. It gives life to Keremeos' agriculture and recreation. You can go swimming, tubing, canoeing, kayaking, floating, and fly fishing. If water isn't your thing, fill your picnic basket with mouth-watering fruit from Keremeos' many fruit stands, go horseback riding through the grasslands, play a round of golf at one of their two golf courses, or visit one of Keremeos' many wineries.
Immerse yourself in the pioneer experience at the historic Grist Mill and Gardens, the last waterwheel-powered flour mill of its kind in Western Canada from the 1800s. You can enjoy the Mill's homemade bread made from wheat that the Mill still grinds today. There is also a heritage apple orchard, gardens, restaurant, general store, gift shop, and campground. You can visit the Keremeos Museum if you want to take a deeper dive into history.
Keremeos also has many public amenities and parks to explore, such as Pine Park, Riparian Park, Skateboard Park, and Memorial Park, which hosts an age-friendly outdoor exercise park with exercise equipment. At the Similkameen Recreation Centre you'll find a fitness room, squash and racquetball courts, a bowling alley, an indoor climbing wall, and an outdoor ice rink! From May to August you can go swimming at Keremeos' outdoor community pool.
Keremeos Real Estate Market
One of the fastest-growing real estate markets in British Columbia is in the South Okanagan, and it's no wonder as more people begin searching for the lifestyle promised in charming small towns and villages like Keremeos. Retirees are drawn to the ease of living in single-story ranchers, ideal climatic conditions, and a welcoming community. Keremeos' real estate market also offers the opportunity for growing families to live in properties with more square footage.
The majority of property listings in Keremeos are for single-family, detached homes, many of which include ample backyard space with room for play, relaxation, and home gardens. Most of these listings are for two to three-bedroom, two-bathroom houses. If you're looking for the ability to live in a single-family home and still be within walking distance to your town's downtown, where building facades inspire nostalgia for the Old West, Keremeos can make that dream a reality.
Approximately one-third of the housing market in Keremeos was built after 2000. Beautiful new-builds, including modern rancher-style homes, have been added to the real estate market in recent years. Relatively newer neighbourhoods built in 2015 or after, such as Copper Ridge 55+ Manufactured Home Park, and feature Moduline manufactured homes with stylish exteriors and functional interiors that offer affordable housing for retirees ages 55 and older. The rest of the real estate market in Keremeos includes buildings from the 1960s or earlier.
Living in the South Similkameen Valley also means that most properties enjoy stunning views of the surrounding mountains, creating an uplifting sense of expansiveness when you look outside. Keremeos provides people with the opportunity to fulfill their dream for wide-open spaces, beautiful homes in a rural setting, and integrating one's home life with the proximity of nature via large acreages that have fruit orchards or vineyards.
Keremeos Realtors
Are you thinking of buying or selling a home in Keremeos? If you're looking to buy a home, contact our Loyal Homes real estate agents, who can answer all your Keremeos community, neighbourhood, and real estate questions.
If you're thinking of selling your Keremeos, BC home, our associated Listing Realtors can provide information on recently sold comparable properties, up-to-date real estate market information, and professional tips to help you prepare and sell your house for top dollar.