Homes for Sale in Barrière, BC
Welcome to Barrière! Below you will find the newest homes for sale and real estate in Barrière, BC. If you would like more information on any of these Barrière real estate listings, simply click on the property, register for a free account, and you'll have access to the full details. From there, you can click Schedule a Tour to request more information from our Loyal Homes Client Care Coordinators or schedule a viewing. Our Client Care Coordinators will be happy to provide you with property disclosure statements, past sales history, comparable properties which have recently sold nearby, and more, so please don't hesitate to ask for help!
For your convenience, we have included Barrière community information at the bottom of the page, including directions for getting here and information about weather, culture, healthcare, recreation, schools, and the real estate market.
Newest Barrière Real Estate Listings
Barrière Real Estate Listings
November 27, 2021
Barrière Real Estate Listings by Price
About Barrière, BC
Barrière is a small community in the southern part of the North Thompson Valley. It offers residents a beautiful and safe place to live away from the bustle of city life but still within close access to city amenities. It's a short drive from Kamloops and has a population of nearly 100,000. For this reason, Barrière has become a popular bedroom community, as people take advantage of its affordable real estate and commute to the city for work.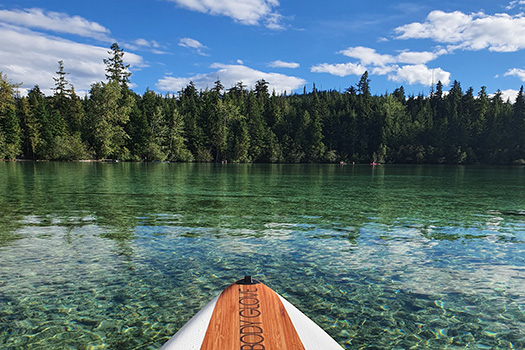 In the 19th century, the area that is now Barrière was a popular gold rush community. A famous story claims gold rush workers could find $25 per day of gold in the nearby Thompson River—an unfathomably large sum of money at the time. The Secwepemc First Nation have lived in the area since prehistoric times, and continue to live in Chu Chua, slightly north.
The community of Barrière has a present-day population of nearly 2,000 residents. It was incorporated in 2007, making it one of the newest municipalities in British Columbia. There are job opportunities in the area, mainly in the forest industry and tourism and farming. Those looking to invest in an overlooked community and young families looking for space to grow should have Barrière on their radar.
Getting to Barrière
Barrière is conveniently located near British Columbia Highway 5, which connects the Trans-Canada Highway to Highway 16. Heading south on Highway 5 for just over 60 km, you'll reach Kamloops, the central transportation hub in the area.
From Kamloops, there are several travel options, including Kamloops Airport, which offers frequent flights to Calgary, Vancouver, Kelowna, Prince George, and Edmonton—operated by Air Canada, Canadian North, Central Mountain Air, Pacific Coastal Airlines, and WestJet. There is also a train station in Kamloops that Via Rail's historic Canadian train passes through from Vancouver to Toronto.
Barrière Weather
Barrière is home to four distinct seasons, each offering its charms. Summers in Barrière are warm and pleasant, with temperatures in July and August that often stretch up into the high twenties, even reaching 30°C. Fall is dry and crisp, with only around 30 mm of precipitation during September, October, and November.
Winters in Barrière are cold and snowy. The average daily temperatures in December and January tend to stick in the negative single digits, sometimes plunging into the negative teens and twenties. On average, you can expect around 121 cm of snowfall per year in Barrière.
Barrière Culture
Barrière refers to itself affectionately as "cowboy country," and you can expect to experience plenty of western cultures when you spend time in the area. Every year, the North Thompson Fall Fair and Rodeo hit Barrière, offering participants the ability to experience exciting rodeo competitions, in addition to community dancing and excellent regional food. It's a popular event, with around ten thousand visitors annually.
Because of the excellent hunting and fishing options within close reach, there's a strong culture of enjoying the outdoors and getting adventurous in nature. Whether it's ice fishing, snowshoeing, snowmobiling in the winter, or hiking, fishing, and rafting in the summer, residents of Barrière bond over their shared love for the natural wonders all around them.
Barrière Education
Barrière falls under the jurisdiction of School District 73, which also serves Kamloops and its surrounding areas. Because of its size, there are limited public school options available in Barrière: Barrière Elementary has classes from K-6, while Barrière Secondary offers grades 7-12.
In addition, Neqweyqwelsten is the elementary school operated by the Simpcw First Nation, which has been around since the 1980s. Thompson Rivers University is located in Kamloops for post-secondary education options, which offers plenty of undergraduate, graduate degrees and job training.
Barrière Health Care
Health care services in Barrière are provided by Interior Health—one of British Columbia's five publicly-funded health authorities, serving the southern interior of BC. The Barrière Health Centre doesn't have hospital beds but offers a range of lab services, urgent care, community services, residential care, and doctors' offices.
Those requiring hospital care in Barrière head to Royal Inland Hospital in Kamloops. One of Interior Health's two tertiary referral facilities, which holds the distinction of being the first all-digital hospital within the health authority. High-level emergency services and specialized care are available at Royal Inland Hospital.
Things to Do in Barrière
Every Friday during the summer months in Barrière, locals head down to Fadear Park downtown to watch Barrière Bandshell Fridays, a music in the park event that runs from 6-9 pm. There, you can grab some snacks from local food vendors and support some of the area's local musicians.
From Barrière, it's a short drive southeast to Sun Peaks Resort, one of the province's most well-equipped mountain resorts. Whether it's winter and you want to ski and snowboard in the excellent powdery conditions, or it's summer, and you're looking to bike, hike, golf, and more, Sun Peaks is a must-visit destination.
Fishing is a popular local pastime, and there are more than sixty lakes within striking distance where you can enjoy the pleasant weather and take advantage of some of the top trout fishing in the North Thompson Valley area. Head over to East Barriere Lake to fly fish for some local rainbow trout.
Barrière Real Estate Market
With its ideal weather, relatively strong jobs in resource industries, and proximity to big-city amenities, Barrière is a promising area for real estate investors. Homes are generally spacious and built on generously sized lots, with split-level dwellings from the 1970s making up the bulk of the available properties.
One popular area for real estate investors is The Sands, a gated waterfront community set right on the bay of East Barrière Lake—known for being a quiet, swimmable lake. In The Sands, there are undeveloped lots with community water and septic ready for you to build your dream vacation or family home. You'll also find stately lakefront homes on Adams Lake, a short twenty-minute drive from Barrière.
In Barrière, you'll find large family homes from the 1970s in the 3,000 square foot range, with four, five, and even six bedrooms available in quiet subdivisions—perfect for growing families. In addition to these homes offering plenty of room, they can also represent strong income property potential.
Barrière Realtors
Are you thinking of buying or selling a home in Barrière? If you're looking to buy a home, contact our Loyal Homes real estate agents, who can answer all your Barrière community, neighbourhood, and real estate questions.
If you're thinking of selling your Barrière, BC home, our associated Listing Realtors can provide information on recently sold comparable properties, up-to-date real estate market information, and professional tips to help you prepare and sell your house for top dollar.