Homes for Sale in Terrace, BC
Welcome to Terrace! Below you will find the newest homes for sale and real estate in Terrace, BC. If you would like more information on any of these Terrace real estate listings, simply click on the property, register for a free account, and you'll have access to the full details. From there, you can click Schedule a Tour to request more information from our Loyal Homes Client Care Coordinators or schedule a viewing. Our Client Care Coordinators will be happy to provide you with property disclosure statements, past sales history, comparable properties which have recently sold nearby, and more, so please don't hesitate to ask for help!
For your convenience, we have included Terrace community information at the bottom of the page, including directions for getting here and information about weather, culture, healthcare, recreation, schools, and the real estate market.
Newest Terrace Real Estate Listings
Terrace Real Estate Listings
November 27, 2021
About Terrace, BC
Terrace BC is a small but thriving city on the Skeena River, surrounded by the exquisite Coastal Mountain Range. It is the regional retail, service, educational, and transportation centre of Northwestern BC and has 12,000 residents (18,000 in the Greater Terrace Area).
The Kitselas and Kitsumkalum people, tribes of the Tsimshian Nation, have lived in the Terrace area for thousands of years and are integral members of the community. Terrace's magnificent natural beauty, a mountain bike trail network, natural hot springs, ski slopes, world-renowned fishing, and many other outdoor activities keep residents busy year-round.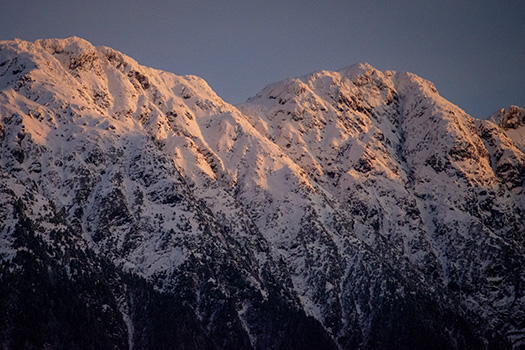 Terrace BC is home to one of the rarest species of Bear on Earth. The Kermode Bear is also referred to as the Spirit Bear, Ghost Bear, Glacier Bear. It is a distinct subspecies of the Black Bear, and its coat ranges from white to chestnut blonde, light red, or even steel blue-grey. The Kermode bear likes mountainous terrain, lush forest growth, mild climate, productive salmon streams, and rivers offered in the natural sanctuary around Terrace and on the small islands in the Douglas Channel. It is the Kermode that graces the logo of the City of Terrace.
Getting to Terrace
Terrace BC is at the juncture of Highway 16 and Highway 37. Many visitors take TransCanada Highway 16 from Vancouver, Calgary, or Edmonton, and driving time from these cities takes between 14 to 15 hours. If you come from Prince Rupert, you'll travel along Highway 37 and arrive at Terrace in about 1 hour and 40 minutes. During the winter months, be sure to check highway conditions on www.drivebc.com.
You can take a ferry through the spectacular Coastal BC waters between Vancouver Island and the Mainland to Prince Rupert for a change of scenery. The ferry can carry large RVs and motor homes, and it's not uncommon to see whales and eagles on this unforgettable 15-hour journey. For more information, check out www.bcferries.com.
The Northwest Regional Airport services Terrace, Kitimat, and the surrounding region. Several flights are daily to and from Vancouver International Airport and other northern British Columbia communities, serviced by Air Canada, WestJet, and Central Mountain Air.
VIA Rail trains provide service between Prince George and Prince Rupert, passing through Terrace. During your train ride, you will pass through the mountains, over raging rivers, and likely spot some wildlife along the way.
Terrace Weather
Being close to the Pacific Coast and a boreal rain forest, Terrace has a humid continental climate, which keeps the summers cooler and the winters milder than further inland. The average January temperature is -4.3ºC, and the average July temperature is 16.4ºC. Summer temperatures rarely rise above 31ºC.
Terrace receives ample precipitation, in the form of snow in the winter, enough for even the most ardent winter sports enthusiast. The rest of the year, the precipitation arrives as rain and sustains the lush vegetation of the rain forest.
Terrace Culture
With Terrace situated so close to the boreal rain forest, the Skeena River, towering mountains, and abundant wildlife, it's no surprise the Great Outdoors plays such a prominent role in the culture of Terrace. Residents display a rich community and artistic life, with museums, theatre, and art galleries. Terrace residents like to socialize in pubs, restaurants, farmer's markets, and more. Like many northern towns and cities, there is a powerful sense of togetherness and a genuine desire to experience their love of the area with visitors.
Terrace Education
Terrace is part of the Coast Mountain School District 82 and has eleven elementary schools, Bear Valley, which serves grades K-12, one middle school, three secondary schools, and two alternative programs offered through Kitimat City High and Parkside Secondary.
For post-secondary studies in Terrace, students can attend Coast Mountain College's Terrace campus or the University of Northern British Columbia's Northwest campus.
Terrace Health Care
Terrace falls in the Northern Health Authority and provides a variety of Health Care services, including the fully accredited 44-bed Mills Memorial Hospital, with surgical, mental health, maternity, diagnostic, and other services. Terrace Health Unit, physicians, care homes, and other health care providers are available in the city.
Things to do in Terrace
There are endless outdoor activities year-round to satisfy everyone. Fishing, mountain biking, hiking, skiing, snowboarding, snowmobiling, skating, ice fishing, and curling are only a handful of popular activities.
Arts also play a meaningful role in the life of Terrace's residents. From community and professional theatre productions to the Heritage Museum and Heritage sites, it is astounding how much cultural and artistic venues enrich the lives of the people who call Terrace home.
Terrace Real Estate Market
As a growing city and a service hub for the surrounding communities, Terrace is a promising market for real estate investments. It provides excellent recreational opportunities outdoors, which makes it an increasingly popular vacation property destination. Several new, affordable housing developments are planned for the area, which should encourage further growth of the community.
For those with growing families, Terrace provides options for large, two-storey four and five-bedroom homes on large lots at affordable rates. These homes often were built in the 1950s and featured large unfinished basements. For those looking to renovate, the fix-and-flip potential is high in Terrace, as is the potential for income-generating rental properties, mainly because of the number of seasonal resource industry workers in the area.
For those looking to buy a new home in Terrace, the new "Terrace Heights" development on The Bench has thirty—five newly built townhomes in the northern part of the city. The townhomes in this development are large and family-oriented, and the Bench is a family-friendly neighbourhood that features the city's best schools and quiet streets.
For real estate investors with limited budgets, retirees, and those looking to downsize, there are affordable condo buildings in Terrace. One solid option is the numerous condo buildings in the Horseshoe area, built in the '70s and close to the bulk of the city's schools and restaurants. The Horseshoe area is also home to large family homes with four and five bedrooms, built in the '80s. These have plenty of room and have the added perk of often featuring finished basements, workshops, and garages.
Another option for those looking first to enter the market or downsize is the Braun's Island Mobile Home Park, which offers genuinely affordable manufactured homes. For those looking to purchase rental properties, a solid area to consider is the neighbourhood around McConnell Avenue near Coast Mountain College. The neighbourhood is ideal because of its access to the college, making it popular with renters. It's also situated near the city's largest hiking area and the Kitsumkalum River.
Slightly east of the core area of Terrace is Terrace Mountain. Large single-family properties can be found near the edge of Terrace Mountain that offers beautiful views and great privacy. Many of the homes in this neighbourhood were built in the 1970s and are spacious.
Terrace Realtors
Are you thinking of buying or selling a home in Terrace? If you're looking to buy a home, contact our Loyal Homes real estate agents, who can answer all your Terrace community, neighbourhood, and real estate questions.
If you're thinking of selling your Terrace, BC home, our associated Listing Realtors can provide information on recently sold comparable properties, up-to-date real estate market information, and professional tips to help you prepare and sell your house for top dollar.