Homes for Sale in Smithers, BC
Welcome to Smithers! Below you will find the newest homes for sale and real estate in Smithers, BC. If you would like more information on any of these Smithers real estate listings, simply click on the property, register for a free account, and you'll have access to the full details. From there, you can click Schedule a Tour to request more information from our Loyal Homes Client Care Coordinators or schedule a viewing. Our Client Care Coordinators will be happy to provide you with property disclosure statements, past sales history, comparable properties which have recently sold nearby, and more, so please don't hesitate to ask for help!
For your convenience, we have included Smithers community information at the bottom of the page, including directions for getting here and information about weather, culture, healthcare, recreation, schools, and the real estate market.
Newest Smithers Real Estate Listings
Smithers Real Estate Listings
November 27, 2021
Smithers Real Estate Listings by Price
About Smithers, BC
Smithers is located on the traditional territory of the Gidimt'en Clan and the Wet'suwet'en people in the Bulkley Valley in northwestern British Columbia, Canada. In 1921, it was designated as the first incorporated village in BC.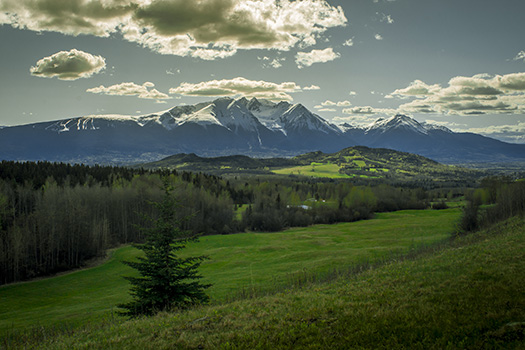 Smithers is a small community, with a population of 5,400 people, colloquially referred to as "Smithereens," and the surrounding Bulkley Valley has about 20,000 people. Although the community is rural, Smithers has all the accommodations you need, including a post office, community hall, fire department, recreation centre, a BC Emergency Support Services team, and a hospital. The area's primary industries are agriculture, tourism, forestry, and mining, and School District 54 is one of the largest employers in the area.
Getting to Smithers
Smithers is found in the heart of British Columbia and can be accessed by road, air, or even by train. You can get to Smithers via the Yellowhead Highway 16, driving west from Prince George for 371 km (4 hours, 10 minutes) or east from Prince Rupert for 347 km (3 hours, 45 minutes). Through BC, many touring routes lead through Smithers, including the Route 16 Motorcycle Tour and the Great Northern Circle Route.
You can fly into Smithers through the Smithers Regional Airport (YYD), a 5-minute drive from the town centre, with Air Canada, Northern Thunderbird Air, and Central Mountain Air. BC Bus North is a passenger bus with routes between 29 communities in Northern BC. Their Prince Rupert to Prince George route runs two round trips through Smithers per week.
VIA Rail is a passenger train service that stops in Smithers three times a week via their Jasper AB to Prince Rupert BC route. This train ride is an incredibly scenic tour through the Rocky Mountains, past lakes, sawmills, and hamlets, with an overnight stop in Prince George. Book a Touring Class seat and have access to a car with a transparent dome for a panoramic view of the landscapes you pass.
Smithers Weather
Smithers has cold and cloudy winters, with temperatures averaging −7.2°C in January, sometimes reaching lows below −20°C when a cold-weather system comes through. The annual snowfall averages 182.7 cm, and February is usually the best month for winter sports such as skiing and snowmobiling.
Summers in Smithers are warm, ranging from an average high of 22°C and an average low of 10°C. The precipitation varies from year to year, with February through April being the driest months, but the area is generally warmer and drier than the coastal mountainous regions to the west.
Smithers Culture
Smithers is known to have a unique culture to the rest of Northern BC. The people have strong environmental principles, and the arts thrive in this small town. Most people in Smithers are somewhat self-reliant, with many chopping their wood to heat their homes and harvesting their crops. The people are neighbourly and resourceful, with an entrepreneurial spirit.
The 6-block-long, alpine-themed, downtown centre of Smithers is the heart of the community, with red brick sidewalks, a large wooden sculpture named 'Alpine Al,' and locally owned and operated shops with alpine-style rooflines. There is a vast restaurant, café, and craft beer culture, with live music at local breweries. There are art galleries to enjoy, and the Smithers Public Library is open six days a week.
The Bulkley Valley is home to many famous musicians, ice hockey players, poets, and writers, and Smithers hosts several arts, music, and writing camps throughout the year. The Della Herman Theatre has a 300-person capacity and is the main venue for music and theatre performances. The Midsummer Music Festival is an annual event featuring a mix of live music genres, interactive workshops, children's activities, food, and art.
Smithers Education
Smithers is part of the Bulkley Valley School District 54. There are five public schools for grades K-12 and four private schools within Smithers.
Smithers Health Care
Smithers is in the Northern Health Regional Authority. The Bulkey Valley District hospital is a 25-bed acute care facility providing emergency, maternity, surgical, medical, and palliative care services. There is a specialist team of nurses for cancer treatments.
The town also has family doctors, anesthetists, a pediatrician, and visiting surgeons. In Smithers, there are also primary care and public health clinics, dentists, mental health and substance use services, and digital health care services, including online bookings and video appointments, which are commonly used
Things to Do in Smithers
As Smithers is surrounded by mountains, there are many incredible downhill and cross-country backroad trails for mountain biking like the Boardwalk Trails with hundreds of meters of boardwalks. You can participate in some backroad touring through the Tyhee Lake Loop or ride the Silverking Basin, which is where you can find the Joe L'Orsa Cabin, a place to rest or stay overnight. The Smithers Mountain Bike Association manages the trails, and you will find suitable rides for all abilities.
Hiking trails are all over the area, and many trailheads are only a 15-minute drive away from downtown, including Perimeter Trail and the Community Forest Trail Network. Even during the busy tourist season, trails won't feel crowded as the area is so large, with such a small population.
You can head downtown to visit day spas for a massage or float therapy or take a self-guided historical walking tour using a map from the Bulkley Valley Museum to see the invention of the egg carton, local fossil beds, and a B-36 Gun Turret.
Smithers has world-class downhill skiing, hunting, and fishing. Depending on the season, you can also enjoy cross-country skiing, baseball, hockey, snowshoeing, soccer, and volleyball. People who are drawn to extreme sports will delight in the opportunities for paragliding, downhill mountain biking, snowmobiling, and quadding in the backcountry.
Smithers Real Estate Market
In the early 1920s, professional landscape architects designed Smithers to accommodate 10,000 people, and the town has loosely followed their plan, with the downtown core as the center and residential development radiating outward.
Watson's Landing is a newer subdivision backing Kathlyn Lake, about a 7-minute drive to downtown Smithers. Gorgeous modern homes can be found here with views of the stunning Smithers mountains. Types of homes range from rancher style to two or three storey homes, and most have attached or detached garages and fully fenced yards.
Silver King is another desirable neighbourhood in Smithers that is home to established single-family dwellings. Houses in this area offer 3 to 5 bedrooms and 2 to 4 bathrooms. Homes in Silver King feature single and double attached garages. Enjoy beautiful views of the mountains from nearly anywhere in Smithers. Homes in this Smithers neighbourhood are close to walking trails, including Perimeter Trail.
Riverfront properties can also be found along the Bulkley River. Whether you are looking at buying a house for sale in town so you can live close to all the amenities this picturesque town has to offer, or if you want to purchase property and build a home in the rural outskirts, Smithers will provide a peaceful life surrounded by nature.
Smithers Realtors
Are you thinking of buying or selling a home in Smithers? If you're looking to buy a home, contact our Loyal Homes real estate agents, who can answer all your Smithers community, neighbourhood, and real estate questions.
If you're thinking of selling your Smithers, BC home, our associated Listing Realtors can provide information on recently sold comparable properties, up-to-date real estate market information, and professional tips to help you prepare and sell your house for top dollar.