Homes for Sale in Prince Rupert, BC
Welcome to Prince Rupert! Below you will find the newest homes for sale and real estate in Prince Rupert, BC. If you would like more information on any of these Prince Rupert real estate listings, simply click on the property, register for a free account, and you'll have access to the full details. From there, you can click Schedule a Tour to request more information from our Loyal Homes Client Care Coordinators or schedule a viewing. Our Client Care Coordinators will be happy to provide you with property disclosure statements, past sales history, comparable properties which have recently sold nearby, and more, so please don't hesitate to ask for help!
For your convenience, we have included Prince Rupert community information at the bottom of the page, including directions for getting here and information about weather, culture, healthcare, recreation, schools, and the real estate market.
Newest Prince Rupert Real Estate Listings
Prince Rupert Real Estate Listings
November 27, 2021
Prince Rupert Real Estate Listings by Price
About Prince Rupert, BC
Prince Rupert is a small city located on the North Coast of British Columbia amidst the beautiful Great Bear Rainforest. For a remote city, it is surprisingly well-equipped. In Prince Rupert, you'll find excellent restaurants, cultural events, and plenty of recreational opportunities. There's a strong community atmosphere and a vibrant and diverse population of residents.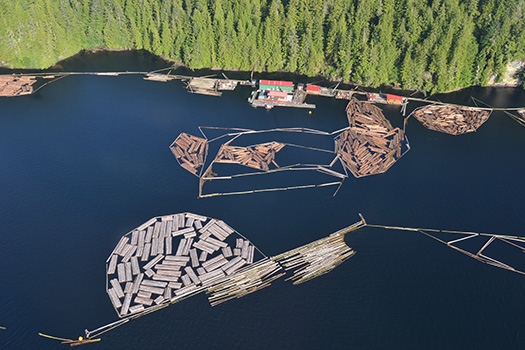 The city of Prince Rupert has a funky, laid-back atmosphere, making it a pleasure to work in the area. The community has a rich history, including more than ten thousand years of Indigenous habitation. Prince Rupert is an exciting possibility for those looking for a change of pace and those interested in investing in a unique community.
Getting to Prince Rupert
Each option for travelling to Prince Rupert is a scenic and unique journey. Prince Rupert is located at the western point of BC Highway 16, part of the Yellowhead Highway, which runs across the country to Winnipeg. The drive itself is an adventure, with impressive wilderness, quickly-changing views, and plenty of opportunities to spot wildlife. The nearest city is Terrace—an hour and a half along Highway 16. Prince Rupert is very far from Vancouver—a meandering 16-hour drive that most travelers avoid favoring other options.
The easiest way to get to Vancouver from Prince Rupert is by taking one of the short flights operated by Air Canada that leave twice a day. The Prince Rupert Airport can be found on Digby Island, a short ferry ride from Prince Rupert.
There are local ferry options as well. BC Ferries has routes to Haida Gwaii as well as Port Hardy on Vancouver Island. Prince Rupert also has a train station—trains travelling along the Prince Rupert to Jasper route leave three times per week and begin with a twelve-hour journey to Prince George.
Prince Rupert Weather
Prince Rupert has interesting weather that could be considered a perk or a pitfall, depending on whom you ask. It has an oceanic climate, which means that temperatures are relatively consistent all year long, without scorching summers or freezing winters. Located in a rainforest, Prince Rupert refers to itself as the City of Rainbows, and it gets more rain and less sunshine than any other city in Canada.
Summers in Prince Rupert are cool, with summertime highs in the mid-teens. Considering the northern location of Prince Rupert, temperatures are genuinely mild. It has some of the warmest winters of any place in Canada, with average temperatures in the low to mid-single digits during December, January, and February. Snow is rare and doesn't last long when it falls, though sometimes bitter cold winter winds blow in from the northeast.
Prince Rupert Culture
Prince Rupert has a rich history with many unique facets. The region has been home to First Nations groups for thousands and thousands of years, and their legacy is celebrated at the Museum of Northern BC, which documents this early history, the pioneer history of the area, and the Hudson's Bay Company.
There's plenty of contemporary art in Prince Rupert as well. The Ruth Harvey Art Gallery is home to recent works by local artists, and so is the Ice House Gallery in nearby Cow Bay. The city is filled with murals, and artworks by local artists are found in shops and restaurants.
Prince Rupert Education
Public education in Prince Rupert is handled by School District 52. In addition to Prince Rupert, School District 52 also operates the schools in Hartley Bay—a nearby First Nations village. There are five elementary schools in Prince Rupert, one middle school, a high school, and an alternative school called Pacific Coast School.
Because of Prince Rupert's sensitive ecosystem and proximity to the ocean, it's a popular area for studying environmental sciences. There are two options for post-secondary education in Prince Rupert—impressive for a city of its size.
The University of Northern British Columbia offers a variety of undergraduate and graduate programs and certificates and diplomas. Coast Mountain College also has a Prince Rupert campus, offering undergraduate degrees, continuing studies, and workforce certificates.
Prince Rupert Health Care
Health care services within Prince Rupert fall within the jurisdiction of the Northern Health Authority. The Prince Rupert Regional Hospital is the biggest in the northwest of the province, and has twenty-five care beds, offers acute and emergency care in addition to a wide range of specialized services and community programs.
Things to Do in Prince Rupert
When you're in a remote, rugged location like Prince Rupert, one of the best things to do is take part in wildlife-spotting experiences the likes of which aren't available in many places in the world. Prince Rupert Adventure Tours offers unbelievable grizzly bear and whale watching tours.
A great perk of living in Prince Rupert is that it offers opportunities for eating and drinking that aren't often found in communities of its size. One great establishment is the Wheelhouse Brewing Company, which offers impressive local ales.
Living in Prince Rupert is all about getting out and exploring the local parks and trails. Butze Rapids Park and Trail offers peaceful walks in nature, many different types of views, and the payoff of seeing waterfalls along the way.
Prince Rupert Real Estate Market
Prince Rupert is a community that's often on the radar of real estate investors who figure the possibility of increased industrial development in the area would send property values on the rise. Residents of Prince Rupert have access to some of the most beautiful, rugged landscapes you'll see anywhere.
Located on Kaien Island, a small mountainous island, Prince Rupert is situated in a sheltered harbour surrounded by some of the world's best salmon and halibut fishing, making it an excellent option for vacation properties for those who love adventure sports, fishing, and hunting.
You'll find affordable small bungalows built nearly a century ago on large lots that offer fantastic ocean and mountain views in Prince Rupert. Those looking to renovate will find truly intriguing options, including large heritage homes with four, five, and six bedrooms, high ceilings, and great views. These come at truly reasonable pricetags and offer the ability for luxurious living without breaking the bank.
For young professionals, those looking to downsize, and real estate investors on limited budgets, condo buildings built in the '70s and '80s are centrally located and offer strong amenities, including gyms, swimming pools, and more.
Prince Rupert Realtors
Are you thinking of buying or selling a home in Prince Rupert? If you're looking to buy a home, contact our Loyal Homes real estate agents, who can answer all your Prince Rupert community, neighbourhood, and real estate questions.
If you're thinking of selling your Prince Rupert, BC home, our associated Listing Realtors can provide information on recently sold comparable properties, up-to-date real estate market information, and professional tips to help you prepare and sell your house for top dollar.