Homes for Sale in Kitimat, BC
Welcome to Kitimat! Below you will find the newest homes for sale and real estate in Kitimat, BC. If you would like more information on any of these Kitimat real estate listings, simply click on the property, register for a free account, and you'll have access to the full details. From there, you can click Schedule a Tour to request more information from our Loyal Homes Client Care Coordinators or schedule a viewing. Our Client Care Coordinators will be happy to provide you with property disclosure statements, past sales history, comparable properties which have recently sold nearby, and more, so please don't hesitate to ask for help!
For your convenience, we have included Kitimat community information at the bottom of the page, including directions for getting here and information about weather, culture, healthcare, recreation, schools, and the real estate market.
Newest Kitimat Real Estate Listings
Kitimat Real Estate Listings
November 27, 2021
About Kitimat, BC
Kitimat, BC, is a charming district municipality that has a fascinating history. It was built in the 1950s by the Aluminum Company of Canada—one of the most ambitious private industry projects ever built. Kitimat was designed by the famous urban planner Clarence Stein in the "garden city movement" style, which is based on balancing urban and rural living styles.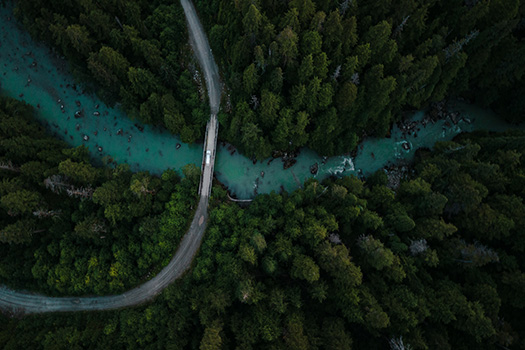 Today, Kitimat has a population of around 8,000 residents and is in the most populated part of northwest BC. Nearby is the larger city of Terrace—a 45-minute drive. Kitimat offers tranquil living in a peaceful coastal community surrounded by mountains and rivers, well removed from the bustle of city life.
Kitimat is a promising real estate investment area because of developments to a significant planned natural gas port in Kitimat, linking British Columbia's liquified natural gas to overseas markets, particularly Asia. Whether you're a real estate investor looking to tap into an exciting port community or you're attracted to Kitimat's rugged charms, this northern coastal community is an ideal spot to work, play, and relax.
Getting to Kitimat
A large part of the appeal of living in Kitimat is that it offers a remote, community-based style of living, far from major urban centres. This also means that transportation options to and from Kitimat are modest. Highway 37 links Kitimat to the nearby city of Terrace, with its population of over 18,000 residents, Terrace is more than twice the size of Kitimat and offers more amenities. The drive along Highway 37 from Kitimat to Terrace takes 45 minutes. Other relatively near cities include Prince Rupert (two hours northwest by car) and Prince George (seven hours east).
To get from Vancouver to Kitimat by car is quite a trip—more than seventeen hours of driving. The quickest way is to fly. The flight from Vancouver to nearby Terrace costs a few hundred dollars and only takes an hour and a half.
Kitimat Weather
Though Kitimat is quite far north in British Columbia, its weather is reasonably mild. It has an oceanic climate, and days are commonly foggy and cloudy, with drizzle. During the summer months, temperatures usually top out in the high teens to low twenties. In winter months, temperatures frequently dip a few degrees below freezing, with occasional freezing periods.
Because Kitimat has relatively cold winters with much precipitation, snow is expected in December and January. On average, it snows on around one in three days during those months. The months in early spring and late fall are very rainy in Kitimat. For those who love hiking or photography, these rugged, damp conditions can create some spectacular views.
Kitimat Culture
Kitimat's secluded nature and the beauty of its landscapes have made it a popular destination for artists. Residents and visitors often head to The Kitimat Museum and Archives, a public gallery where works by emerging and established artists are exhibited.
The Haisla people have lived in the Kitimat area for more than 9,000 years, and traditional Kaisla art can be found throughout the community. Sammy Robinson is a Haisla carver whose work has attracted international acclaim. Murals around Kitimat enhance the community's artistic vibe, and plenty of photographers come and go, motivated to capture the area's isolated splendor.
Kitimat also has a thriving performance art scene. The Mount Elizabeth Theatre is a beautiful 500-seat performance venue where theatrical performances are held by the local theatre group On Cue Players and school groups.
Kitimat Education
There are two secondary schools in Kitimat: Mount Elizabeth Middle and Secondary School and Kitimat City High. There are also two elementary schools: Nechako Elementary and Kildala Elementary.
Kitimat Valley Institute is a post-secondary institution geared towards providing training for trades and business. Coast Mountain College in nearby Terrace offers several post-secondary programs across a wide array of fields.
Kitimat Health Care
In Kitimat, health care needs are served by Northern Health, which provides healthcare services to those who live in the northern portion of British Columbia. The Kitimat General Hospital and Health Centre offers services to residents.
Kitimat's hospital has twenty acute care beds and provides a wide array of health services. Community services, including nursing care, long-term care, and home support, are also offered by the Kitimat General Hospital and Health Centre. Mountain View Lodge, located on the hospital site, offers long-term care services to Kitimat residents.
Things to Do in Kitimat
British Columbia's North Coast area is home to some of the best fishing opportunities anywhere in the world. Whether you're living in Kitimat or just visiting the area, partaking in some of Kitimat's fresh and saltwater fishing is a must. For freshwater fishing, the Kitimat River is filled with steelhead, salmon, and trout. When it comes to saltwater fishing, the Douglas Channel has some of the biggest halibut around.
Kitimat is heaven for those who love to camp. Lakelse Lake Provincial Park offers excellent camping facilities amidst majestic old-growth forests, sandy beaches, streams, and more.
When people think of Kitimat, the spectacular wilderness opportunities often come to mind, but Kitimat is also home to impressive recreation facilities. There are two ice rinks in the community and the Aquatic Centre, which offers lessons, exercise equipment, a lazy river, a waterslide, and more.
Kitimat Real Estate Market
Kitimat has been on the radar of real estate investors from near and far ever since plans for the area's LNG port were first announced in 2018. Most of the available real estate comes in the form of well-built homes built along with the rest of the community in the '50s. These homes are on good-sized lots and often feature sizable basements, garages, and workshops.
New housing developments in the area have recently been built to accommodate the growing demand in the area. One of these new developments is Riverbrook Estates, a master-planned community of around fifty new homes conveniently situated, featuring excellent amenities and appliances. The Riverbrook Estates project will continue to grow and become the community's most prominent development in the coming decades.
In Kitimat, real estate options include several large two-story split-level homes on large lots that could be particularly desirable for those with growing families. 1950s-era ranchers in the ideal Whitesail neighbourhood are an excellent affordable option, while grand custom homes near the Hirsch Creek Golf Course are stylish.
Kitimat Realtors
Are you thinking of buying or selling a home in Kitimat? If you're looking to buy a home, contact our Loyal Homes real estate agents, who can answer all your Kitimat community, neighbourhood, and real estate questions.
If you're thinking of selling your Kitimat, BC home, our associated Listing Realtors can provide information on recently sold comparable properties, up-to-date real estate market information, and professional tips to help you prepare and sell your house for top dollar.