Homes for Sale in Houston, BC
Welcome to Houston! Below you will find the newest homes for sale and real estate in Houston, BC. If you would like more information on any of these Houston real estate listings, simply click on the property, register for a free account, and you'll have access to the full details. From there, you can click Schedule a Tour to request more information from our Loyal Homes Client Care Coordinators or schedule a viewing. Our Client Care Coordinators will be happy to provide you with property disclosure statements, past sales history, comparable properties which have recently sold nearby, and more, so please don't hesitate to ask for help!
For your convenience, we have included Houston community information at the bottom of the page, including directions for getting here and information about weather, culture, healthcare, recreation, schools, and the real estate market.
Newest Houston Real Estate Listings
Houston Real Estate Listings
November 27, 2021
About Houston, BC
The Northern Interior town of Houston in the Bulkley Valley is located between Terrace and Prince George on Yellowhead Highway 16. Its nearest neighbours include Smithers to the west and Burns Lake to the east. The area was initially called Pleasant Valley after the beautiful mountain scenery and abundant rivers surrounding it. Its rich valley soil attracted pioneer farming families. A contest to officially name the town was held in 1910, and the winning entry was Houston, named for pioneer newspaperman and former Mayor of Nelson, John Houston.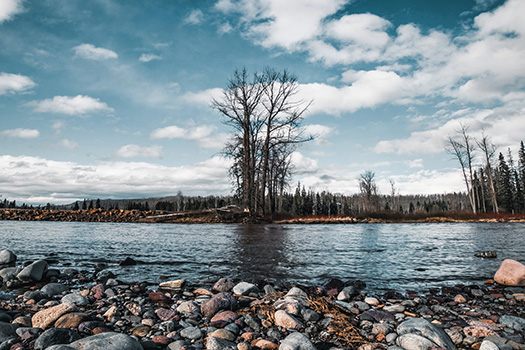 Houston's first hotel was a large tent. In 1912, it was the local centre for producing railroad ties for the Grand Trunk Pacific Railway (later the Canadian National Railway). Today the economy of this community is approximately 3,200, with about 2,000 in the surrounding rural district, which is based primarily on forestry, mining, agriculture, and tourism.
Getting To Houston
Via Rail offers service from Vancouver or Jasper to Smithers with an overnight stop in Prince George. You can take an Air Canada non-stop flight to Smithers from Vancouver International Airport and drive the remaining 6.7 km to Houston if you choose to fly. Driving from Vancouver, you take BC-1/Trans-Canada Hwy. to Prince George and then BC16W (Yellowhead Hwy) to Houston.
Houston Weather
Houston's climate is mild summers and cold winters. Located in a rain shadow provided by the Coastal Mountains, Houston has a relatively dry climate with uniform precipitation throughout the year. December experiences the most snowfall with an average of 303 cm. The average daily high from May to September is above 17°C, with July being the hottest month with an average high of 22°C. The coldest month is January, with an average high of -4°C and a low of -11°C.
Houston Culture
Houston is known as the Steelhead Capital of the World. Two famous fly-fishing rivers, the Morice River and the Bulkley Valley River meet at Houston. The Steelhead runs on both rivers attract anglers from near and far along with the many lakes home to Chinook, Coho Salmon, Rainbow, and Kokanee Trout.
In 1990 the town searched for a symbol to carve out a unique identity for Houston and attract tourists. A "Name our Town" contest was held, and the winner was local Warren Jarvis, who came up with the idea of building the world's largest fly rod. The rod is 60 feet long and made out of aluminum that was anodized bronze to simulate graphite. The reel's diameter is 36 inches, and it weighs 800 pounds! Today visitors take photos and selfies in front of this famous fishing rod located in Steelhead Park, including night shots when it is illuminated. Steelhead Park can be found on the east side of Houston on Highway 16. The park is the pride and joy of the community. The park includes walking trails, a dog run, playground, picnic areas, beautiful flower gardens, and fountains in addition to the " World's Largest Flyrod.
Houston Education
Houston is part of School District 54 Bulkley Valley and has two elementary schools, one Secondary school, and Houston Christian School, which serves K-12.
Houston Health Care
The Houston Health Centre can be found at 2303 14th St; and provides a range of services, including a primary care clinic, public health, medical laboratory services, home support services, and prenatal instruction.
Things to Do in Houston
Outdoor recreation is available year-round at Morice Lake Provincial Park, Old Man Lake Provincial Park, Steelhead Park, and Nadina Mountain Provincial Park. Travel information, including maps and driving directions, can be found on the Houston Hikers Society website.
The Morice Mountain Nordic Ski Club (MMNC) is a non-profit volunteer-run society responsible for trail grooming and maintains the ski trails on Buck Flats Road, just 8 km south of Houston. Cross country skiers can enjoy 45 km of beginner and challenging courses through Silverthorne Lake's rolling hills.
The Nanika-Kidprice Lakes Basin canoe route is popular with both locals and tourists in the summer months. It is 3,020 ft above sea level and offers spectacular views of the snow-capped peaks rising as high as 7,900 ft. The canoe route is 30 km and takes approximately three to four days to complete, including 4 km of portaging between the three lakes.
The Houston Farmers Market is held throughout the summer and early fall at Steelhead Park. This market offers a variety of local products, from delicious baked goods, preserves, and handmade crafts to fruits, vegetables, and locally grown herbs.
The Houston Leisure Facility includes a fitness gym, pool, hot tub, and sauna. Houston also has two nine-hole golf courses, the public Willow Grove Golf and Country Club and the semi-private Houston Golf and Country Club.
The Claude Parish Memorial Arena, built in the 1970s, provides residents with a place to play hockey and skate. Ringette, hockey, public skating, and figure skating are all offered at the Arena during the fall and winter months. During the spring and summer, the space is available for ball hockey, tradeshows, and other dry floor events.
Houston Real Estate Market
Houston is one of the most affordable real estate markets in the province. When you factor in the extensive natural beauty surrounding it, the strong local economy, and the terrific local fishing and hunting, it becomes clear why Houston can be an exciting community to purchase a property. Houston has plenty of exciting options for those looking for the adventure of moving to a new community, those considering purchasing a vacation property, and property investors interested in markets with a low barrier of entry.
In Houston, you'll find sizeable split-level family homes built in the 1980s available at affordable prices. Some of these homes are located in the ideal neighbourhood near Houston Secondary, close to three parks and Buck Creek. In this neighbourhood, the houses often have large yards with mature trees and outdoor seating areas. These homes are ideal for growing families due to affordability and usually finished basements. The ability to create mortgage-helping basement suites opens up options for investors with a range of budgets.
One of the most pleasant areas in Houston is the neighbourhood near Four Seasons Park, which is home to quiet roads and serene forested areas. In this neighbourhood, you'll find large family homes built in the 1960s and 1970s with numerous bedrooms and quaint country-style designs. If you're looking for lots of room and privacy, the Four Seasons Park neighbourhood often has ideal, affordable properties available.
Because land in Houston is so affordable and the community attracts ambitious individuals, you'll sometimes find unique custom homes available slightly outside the town's central core. These custom properties are often situated on large plots of land and possess exciting amenities, including indoor swimming pools, workshops, greenhouses, extensive gardens, and more.
Houston is situated right along the Yellowhead Highway, between Prince Rupert and Prince George. This location is key to much of the tourism that partially fuels the town's economy. The highway passes directly through the centre of Houston, and near this area, you'll find very affordable lots that are cleared, level, serviced, and ready for you to build your own custom home upon. The proximity of this neighbourhood to the winding Bulkley River is an added perk.
Houston Realtors
Are you thinking of buying or selling a home in Houston? If you're looking to buy a home, contact our Loyal Homes real estate agents, who can answer all your Houston community, neighbourhood, and real estate questions.
If you're thinking of selling your Houston, BC home, our associated Listing Realtors can provide information on recently sold comparable properties, up-to-date real estate market information, and professional tips to help you prepare and sell your house for top dollar.