Homes for Sale in Dawson Creek, BC
Welcome to Dawson Creek! Below you will find the newest homes for sale and real estate in Dawson Creek, BC. If you would like more information on any of these Dawson Creek real estate listings, simply click on the property, register for a free account, and you'll have access to the full details. From there, you can click Schedule a Tour to request more information from our Loyal Homes Client Care Coordinators or schedule a viewing. Our Client Care Coordinators will be happy to provide you with property disclosure statements, past sales history, comparable properties which have recently sold nearby, and more, so please don't hesitate to ask for help!
For your convenience, we have included Dawson Creek community information at the bottom of the page, including directions for getting here and information about weather, culture, healthcare, recreation, schools, and the real estate market.
Newest Dawson Creek Real Estate Listings
Dawson Creek Real Estate Listings
November 27, 2021
Dawson Creek Real Estate Listings by Price
About Dawson Creek, BC
Located in the Peace River Region and home to just under 13,000 residents, Dawson Creek is in northeastern British Columbia. Dawson Creek was born out of George Mercer Dawson's fascination with the fertility of the land while on a survey tour in the late 1800s. The first settler called Dawson Creek home in 1907. In 1931, the Northern Alberta Railway established itself just east of Dawson Creek. The community living in the city decided to follow, setting up houses and commercial buildings near the Railway terminus. In 1941, the village had reached a population of 500 residents. Dawson Creek quickly became the famous "Mile Zero," as it was essential not solely to rely on water transportation of goods. The highway was completed in 1942.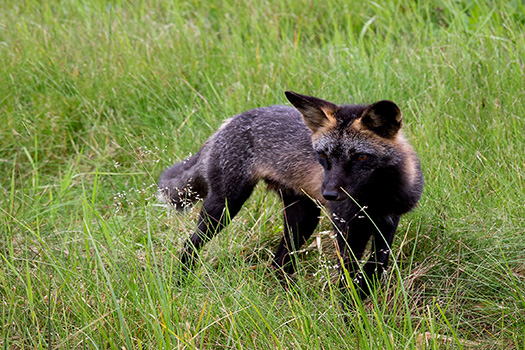 Getting to Dawson Creek
Dawson Creek is about 65 km southeast of Fort St. John, 412 km northeast of Prince George, and 125 km west of Grande Prairie, Alberta. On average, it's about a 6-hour flight from Vancouver, including layover times of just under 3 hours. Also known as "mile zero," Dawson Creek is the origin point of the Alaska Highway, which runs 2,400 km north, reaching Fairbanks, Alaska.
Dawson Creek Weather
Summers in Dawson Creek are usually comfortable and sometimes cloudy, reaching highs of 29°C. This warm season lasts for just under four months, from mid-May until mid-September, with July's being the hottest month. If you like bundling up in the cold weather and participating in winter sports, Dawson Creek is the city for you. The winters are cold, reaching lows of -30°C and covering the landscape with snow. The cold season lasts for about 3.5 months, from mid-November until the end of February, the coldest month being January.
Dawson Creek Culture
Dawson Creek is a friendly city with the community being reputable for its hospitality. The community's hospitable character comes from catering to the constant flow of visitors driving to Alaska but first stopping at The Mile Zero City before hitting the highway. Personal testimonials dote on the luxury of the small-town feel, tight-knit, family-oriented community. Others have stated that living in Dawson Creek is the furthest thing from a "stressful atmosphere." The residents enjoy what the city offers in the beauty of its natural surroundings, including beautiful forests, rivers, fishing spots, hiking trails, and breathtaking mountains.
Dawson Creek Health Care
Dawson Creek is under the Northern Health District Health Authority and offers a wide range of services to those seeking health care in this Northeastern area of British Columbia. The city provides integrated acute and community mental health programs, and there are addiction counselling services and home and family support services. Dawson Creek is also home to the Child Development Centre, which serves younger individuals who are 19 and younger who require pediatric rehabilitation services. There is a travel service under Northern Health Connections which offers people transportation to their out-of-town healthcare appointments in Northern BC, Vancouver, Kamloops, and Grande Prairie. Dawson Creek and District Hospital is located at 11100 13th Street and has served the community since 1960.
Things to Do in Dawson Creek
A lot of the activities to do in Dawson Creek are based on the weather conditions. In the winter, residents participate in skating, snowmobiling, snow-shoeing, curling, cross-country skiing, downhill skiing, snowboarding, dog-sledding, and backcountry skiing. The summer months bring the excitement of swimming, fishing, boating, kayaking, sightseeing, biking, hiking, and golfing.
If outdoor activities aren't your thing, be sure to check out the Art Gallery. The Dawson Creek Art Gallery is located in a renovated and restored grain elevator in the Northern Alberta Railway Park, holding art from both local and travelling artists. The Dawson Creek Station Museum is also located downtown in the Northern Alberta Railway Park. The museum showcases the history of the city and the surrounding areas and a wildlife exhibit. Be sure to book off the last week of the summer to kick the fall season off with the Dawson Creek Agricultural Fall Fair, Exhibition, and Pro Rodeo.
Dawson Creek Real Estate Market
With an extensive range of housing choices, including newer homes and older character homes, Dawson Creek is one of Northeastern BC's most affordable cities, whether that means buying, renting, or building. Compared to most areas in BC, prices are low, and most neighbourhoods are conveniently located near schools and shops. Although prices in Dawson Creek have been on a consistent rise over the last few decades, there has been a plateau across the market in more recent years due to the slowing down of the oil and gas industry.
New subdivisions in the city include Crescent View, Manor Heights, Harbour Park, Sunset Ridge, Harvest View, Country Hills Estates, and The Woodlands. There are numerous acreages in rural communities offering ample space and privacy. Local development companies are actively establishing new lots with underground services and paved street access. Water, sewer, garbage pick-up, and curbside recycling are provided by the City of Dawson Creek for properties within city limits. If you're not looking to settle down in Dawson Creek, it is a great place to invest in one or several rental properties.
Dawson Creek Realtors
Are you thinking of buying or selling a home in Dawson Creek? If you're looking to buy a home, contact our Loyal Homes real estate agents, who can answer all your Dawson Creek community, neighbourhood, and real estate questions.
If you're thinking of selling your Dawson Creek, BC home, our associated Listing Realtors can provide information on recently sold comparable properties, up-to-date real estate market information, and professional tips to help you prepare and sell your house for top dollar.