Trail Houses for Sale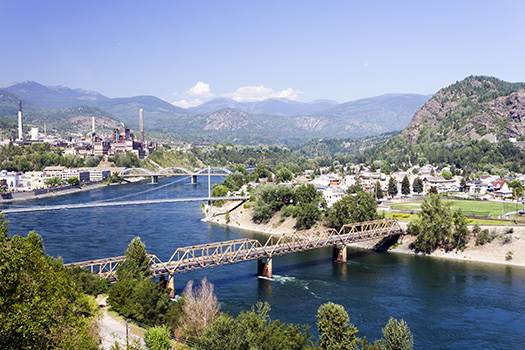 Search all Trail Houses for Sale and real estate listings below. Trail, BC is a serene small city in the West Kootenays, only 10 km north of the US border. Featuring beautiful natural attractions, an active cultural scene, and notably affordable real estate prices, it's an attractive destination for those looking to live amidst nature in a welcoming community. Trail is a picturesque small city.
Be sure to register for a free account so that you can receive email alerts whenever new Trail properties come on the market.
Trail MLS Real Estate Listings
December 2, 2023
Trail MLS Real Estate Listings by Price
Trail Real Estate Listings by Neighbourhood
Trail Real Estate Listings by Type
Trail Real Estate Market
Real estate investors are drawn to Trail because prices of homes are low, especially considering how well-connected Trail is to well-equipped larger cities relatively close by. The city benefits from several factors that make it an affordable place to invest, including low municipal tax, tax exemptions for developments, and other incentives.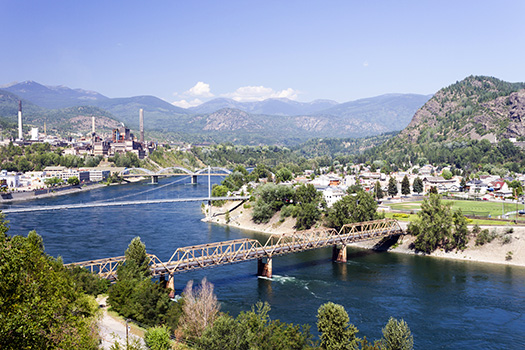 Real estate in Trail is popular with young families looking for their first homes, as well as those looking to downsize. Recently it has been attracting more attention from those looking to move out of major cities.
The most common type of property available is large, affordable single-family three-bedroom homes with basements. These homes are often more than 2,000 sq. ft. and offer excellent renovation potential, with their large living rooms and kitchens. Slightly outside of the city of Trail itself, you'll find larger lot sizes and some luxury home options that still come at surprisingly affordable price tags.
One popular neighbourhood in Trail is the Sunningdale subdivision, which features homes built in the 1940s to accommodate soldiers returning after World War Two. The homes in this quiet neighbourhood are quaint and affordable, with some larger properties with river views available in the Hazlewood Drive area.
About Trail, BC
The Columbia River winds right through Trail, and the Selkirk and Monashee mountains rise above it on either side. The city's name stems from its history along the Dewdney Trail—the important route used in the 19th century to link mining camps across the province, facilitating the gold rush. Today, the Dewdney Trail's path historically followed is the Crowsnest Highway, which connects southern British Columbia to southern Alberta, passing through Trail on its way.
Economically, Trail is centered around mining, although the city is pivoting towards more technology-based industries.Trail's affordability and solid local transportation options strike an impressive balance between rural and urban lifestyle options.
Getting to Trail
There are a surprising number of options when it comes to getting to Trail BC by air. The Trail Regional Airport—which the city owns and operates—has daily flights to Vancouver that take only around an hour. The West Kootenay Regional Airport is a half-hour drive from Trail and has daily flights to Calgary and Vancouver.
Meanwhile, 200 km south of the American border is the Spokane International Airport, which offers extensive flights all over the United States and international destinations.
Trail is conveniently located on the Crowsnest Highway, the fastest route from the Lower Mainland through the Rocky Mountains into Lethbridge and Medicine Hat. West Kootenay Transit offers local bus services, and there's also a direct bus to Kelowna that Silver City Stagelines operate.
Trail Weather
The summer months in Trail are beautiful—sunny without being too humid, with temperatures that cool right down in the evenings. It's common during the summer months for temperatures to rise more than 35 degrees in the middle of the afternoon.
During the rest of the year, precipitation levels are usually relatively high. There can be dramatic thunderstorms during late spring, and during the fall, it's often foggy at night and during mornings. Winters in Trail are mild but moderately snowy, although not as snowy as surrounding communities at higher elevations.
Trail Culture
Trail is known for having a large population of Italians. Nearly 20% of the people of Trail have some Italian heritage, and the area known as "the Gulch" is home to Italian shops and a commemorative plaque acknowledging this history.
Visitors and residents can engage with Trail's history in the times of British Columbia's gold rush at the Trail Museum and Archives, which showcases relics of Trail's pioneer industrial past, in addition to its rich hockey history. Trail is a hockey town and refers to itself as "BC'S #1 Sports Town."
A popular pastime during the warm months is to head to the Gyro Park Gazebo, where there are frequent musical performances. Entrance is by donation, and locals often bring their lawn chairs and sit soaking up the tunes.
Trail Education
Trail is part of School District 20, which also includes Castlegar, Rossland, Fruitvale, and Warfield. Trail is home to two public elementary schools: Glenmerry Elementary School and James L Webster Elementary School. Students can also enroll at St. Michaels Catholic School, a private school.
There are two options for secondary schools in Trail—J. Lloyd Crowe Secondary and Kootenay-Columbia Learning Centre. For post-secondary education, Selkirk College's Trail campus offers a variety of programs.
Trail has education statistics that differ from the rest of the province, in that a far higher percentage of the population has a trades certificate or diploma than the provincial average, while far fewer have a university education. This is attributable to the fact that most Trail residents work for Teck Resources, a mining company.
Trail Health Care
Interior Health administers health care services in the Trail area in a regional "network of care" approach in which different communities contribute a variety of essential services.
Kootenay Boundary Hospital is located in Trail and serves the surrounding communities as well. It provides core surgical and medical specialty services, with 24-hour emergency, laboratory services, and much more.
Things to Do in Trail
One of the most popular pastimes that locals in Trail take part in is heading to Cominco Arena to watch the Trail Smoke Eaters, the local junior A hockey team that competes in the BCHL. The fans are enthusiastic, and it's a great way to engage with the community while watching Canada's favourite game.
The Columbia River Skywalk stretches over the iconic river that runs through the city, and it boasts a suspension bridge that is one of the longest in North America. The skywalk is also cyclist-friendly and offers lovely views of the city.
Those looking to engage with some of the beautiful landscapes of the South Kootenays can head to Beaver Creek Provincial Park. There, you can hike down to the Columbia River or have a picnic on the well-maintained grounds. The campsite area is rustic and serene.
Trail Realtors
Are you thinking of buying or selling a home in Trail? If you're looking to buy a home, contact our Loyal Homes real estate agents, who can answer all your Trail community, neighbourhood, and real estate questions.
If you're thinking of selling your Trail, BC home, our associated Listing Realtors can provide information on recently sold comparable properties, up-to-date real estate market information, and professional tips to help you prepare and sell your house for top dollar.