Nelson Houses for Sale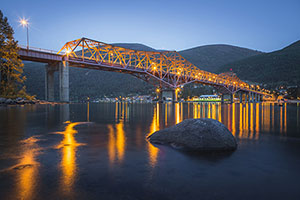 Search all Nelson Houses for Sale and real estate listings below. Nelson is one of the funkiest towns in BC! Nelson is a great choice for house shoppers who want small town living with big-city amenities. In fact with all that it has going for it, it's hard to believe that Nelson has a population of only 18,000 people.
Framed in on both sides by the Selkirk mountains, and right on the shores of Kootenay Lake's West Arm, Nelson is a truly picturesque place to live. Be sure to register for a free account so that you can receive email alerts whenever new Nelson properties come on the market.
Nelson MLS Real Estate Listings
December 5, 2023
Nelson MLS Real Estate Listings by Price
Nelson Real Estate Listings by Type
Nelson Real Estate Market
With so much to offer, it's no surprise that Nelson, BC, has a vibrant real estate market. There are five distinct neighbourhoods in Nelson. Downtown is a commercial real estate district characterized by late Victorian-era commercial buildings full of funky businesses. Uphill is… well… uphill of Downtown. The homes for sale in this neighbourhood are typically heritage homes with small steep lots and easy access to Downtown.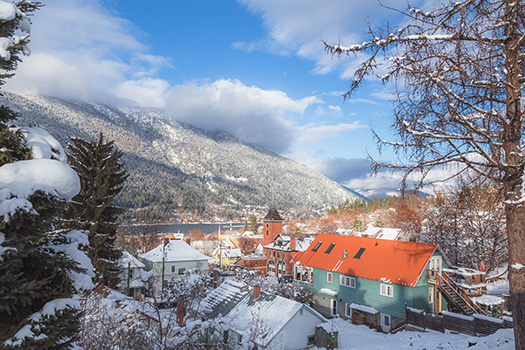 Mountain Station is south of Uphill and is characterized by mid-century houses on larger lots, often with views. This area is nestled among the forest and popular with couples and families wanting quick access to nature. Rosemont is located southwest of Downtown, across highway 6. Like Mountain Station, this neighbourhood is made up of mid-century homes.
Finally, Fairview is east of Nelson, closer to the Orange Bridge. This neighbourhood is built on a gentle slope, and you'll find a mix of grand charter houses, mid-century houses, modern homes, and view building lots. Fairview gives convenient access to Lakeside park and the beach.
About Nelson, BC
Nelson is framed on both sides by the Selkirk mountains and in the center is Kootenay Lake's West Arm and the iconic orange bridge. Known as the Queen City, Nelson has over 350 restored heritage buildings from the silver rush days. You'll feel the authentic free spirit vibe as soon as you walk into town, and especially when you walk down historic Baker Street. Nelson enjoys 50 restaurants and cafes, organic markets, artisan food shops, breweries, galleries, and museums. And surrounding it all is the majestic beauty of the inland temperate rain forest and unlimited outdoor recreational opportunities.
Getting to Nelson
Nelson BC can be reached by road or by air. The City of Nelson is located in the southeast corner of British Columbia, where Highway 3A meets Highway 6. By road, it is approximately an 8-hour drive from Vancouver, BC, a 6.5-hour drive from Calgary, AB, and a 3-hour drive from Spokane, Washington. Whichever direction you're coming from, you're in for a spectacular drive on a well-maintained highway. In the winter months, be sure to check Drive BC for updates on current road conditions.
For those wishing to visit Nelson by air, Nelson has a local airport, while the nearby communities of Trail, Castlegar, and Cranbrook have regional airports that can be reached from larger cities in Canada.
Nelson Weather
Nelson enjoys four distinct seasons. Located in an inland temperate rainforest, Nelson gets much of its moisture in the form of both rain and snow. Springtime temperatures average 8.3°C, and you'll tend to see a fair amount of rain at lake level, while spring skiing in the mountains can last into early May. Summers are hot and dry, with average temperatures at 25°C. The relative warmth of the Fall season in September and early October tends to transition quickly into winter conditions in late October and November. Wintertime is perhaps the best season in Nelson because it snows… a lot. And it is stunning! The average winter temperature at lake level is -2.1°C
Nelson Culture
Nelson, BC, is one of the most amazing small towns in British Columbia, and that is primarily owed to the unique culture of the people who call Nelson home. It's all about arts, food, intense natural beauty, dramatic heritage, and of course… people. Nelson has more (restored) heritage buildings per capita than any other community in British Columbia. Walking through the City of Nelson, you can't help but marvel at the buildings, but you'll also be in awe of the diversity of arts and artisans in the community. Nelson is situated in the traditional territories of the Sinixt, Syilx, and Ktunaxa people and is further inspired by their diverse culture.
Nelson Health Care
Nelson is located in the jurisdiction of the Interior Health Authority. There are numerous health services available in the community; primarily amongst them is the Kootenay Lake District Hospital located at 3 View Street. Also found in Nelson are walk-in clinics, residential care facilities, home support, dentists, and numerous naturopathic and alternative medicine practitioners.
Things to Do in Nelson
When it comes to things to do in Nelson, BC, it revolves around the arts and the great outdoors!
To begin, you'll want to soak in Nelson's historic sites by taking a walk-through town. The most notable late-Victorian-era buildings include the Nelson Court House, the Hume Hotel, Touchstones Nelson Museum of Art and History, KWC Block, and the Capitol Theatre. And it's not just the buildings that are historic. Nelson is also home to an early 20th-century tram line. When you get hungry, you won't be short of options. Nelson boasts incredible organic markets, restaurants, bakeries, artisan food shops, and microbreweries.
Next, it's time to enjoy the lake! Kootenay Lake is 144 km long and offers fantastic opportunities for kayaking, stand-up paddleboarding, sail boating, water skiing, swimming, and fishing. For the more adventurous, you can enjoy a white-water trip down the class 4 rapids on the Salmo River. When you're done on the water, check out the trails. Nelson BC is a mecca for mountain biking. There are trails for every level of ability, and it's easy to rent a bike in town. If you're not into biking, there are many hikes in the area, many of which will offer spectacular viewings of the valley. Kokanee Creek Provincial Park is a great place to start.
Nelson makes a first-rate place to explore the surrounding region. Driving parts or all of the Selkirk Loop will give you ample opportunity to feast on the sights of mountains, lakes, and wildlife. Ainsworth Hot Springs is a historic village less than an hour drive from Nelson famous for… you guessed it, hot springs. A bit further north, you will find the village of Kaslo, a picturesque community on the lake.
In the wintertime, there is skiing! Whitewater Ski Resort is a must-visit for anyone who enjoys the slopes. This small resort gets nearly 40' of snowfall a year!
Nelson Realtors
Are you thinking of buying or selling a home in Nelson? If you're looking to buy a home, contact our Loyal Homes real estate agents, who can answer all your Nelson community, neighbourhood, and real estate questions.
If you're thinking of selling your Nelson, BC home, our associated Listing Realtors can provide information on recently sold comparable properties, up-to-date real estate market information, and professional tips to help you prepare and sell your house for top dollar.