Homes for Sale in Montrose, BC
Welcome to Montrose! Below you will find the newest homes for sale and real estate in Montrose, BC. If you would like more information on any of these Montrose real estate listings, simply click on the property, register for a free account, and you'll have access to the full details. From there, you can click Schedule a Tour to request more information from our Loyal Homes Client Care Coordinators or schedule a viewing. Our Client Care Coordinators will be happy to provide you with property disclosure statements, past sales history, comparable properties which have recently sold nearby, and more, so please don't hesitate to ask for help!
For your convenience, we have included Montrose community information at the bottom of the page, including directions for getting here and information about weather, culture, healthcare, recreation, schools, and the real estate market.
Newest Montrose Real Estate Listings
Montrose Real Estate Listings
November 27, 2021
About Montrose, BC
Montrose (aptly known as the Village of Montrose) is where your dreams of peaceful, small-town, country living come true. Wherever you are in Montrose, your gaze is met by the surrounding, breathtaking wilderness of the West Kootenay region of southeastern BC. Forested, mountainous terrain with a colour palette of greens and blues act as the natural backdrop for your life in Montrose. It was built on a mountain ledge above the Columbia River and is known as the Gateway to the Beaver Valley, a narrow valley of evergreen trees to the east of Trail. Montrose is a small community of under 2,000 people and many home-based businesses. Shopping small and supporting local businesses are easy to accomplish here!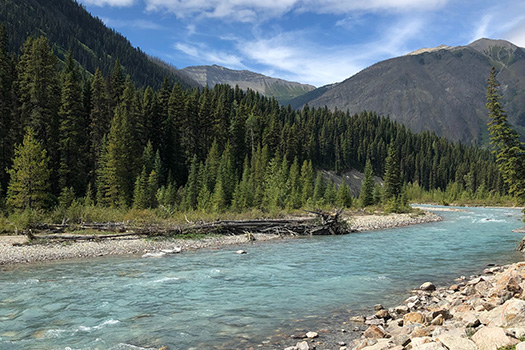 Getting to Montrose
Montrose is located on Highway 3B, only 10 km to the east of Trail and close to the Canada-USA border. A border crossing connects Northport, Washington, to the Greater Trail area to the south of Montrose. Montrose is an eight-hour drive from Vancouver, nearly straight across the province to the east along BC-3 E. The major cities closest to Montrose are Calgary, Alberta (603 km to the east), and Kelowna (325 km to the west).
Additionally, daily flights to/from Vancouver and Calgary are offered in Trail and Castlegar. Montrose is a quick 7-minute drive from the Trail Regional Airport and a 40-minute drive to the south of Castlegar.
A vehicle is a welcomed necessity for travelling to Montrose and when you live in Montrose. Most of your daily errands (including going to the doctor's office) cannot be easily accomplished on foot and usually requires a vehicle to drive to neighbouring communities. Drive BC is an excellent resource for checking current road conditions before planning your trip.
Montrose Weather
At an elevation of 593 metres, Montrose experiences cool nights in the summer and icy fresh air in the winter. You'll find the lowest average temperature of -17℃ in February and the highest average temperature of 39℃ in August. The sunniest months on record for Montrose are July and August, which is perfect for taking advantage of being in the beautiful outdoor wilderness that surrounds Montrose. December and January experience the most snowfall (approximately 50 cm on average), while Montrose's rainiest months are June (average rainfall of 74 mm) and May (average rainfall of 74 mm).
Montrose Culture
In small places like the village of Montrose, where everybody seems to know everyone, the culture of the community unfolds organically as a result of its citizens, their personalities, interests, and how they relate to one another that is unique to that point in time. However, perhaps what remains consistent across time is the friendliness and wholesome essence that is special to small, rural communities that are so deeply immersed in nature. You'll find the atmosphere in Montrose to be relaxed, peaceful, safe, and friendly.
With Montrose being one facet of the greater West Kootenay region, you'll soon find that a large part of the West Kootenay's culture is the arts. Amidst all these small communities in the region, you'll find no shortage of artist studios, galleries, museums, and theatres that are passionate about giving life to local productions and showcasing Canadian performers.
Montrose Education
Montrose falls within the Kootenay-Columbia School District 20, but there are no schools within the village itself. Residents must venture out to surrounding communities to attend school but worry not; the commutes are conveniently short! Again, this is why having a vehicle is helpful!
In Montrose, elementary school students go to Fruitvale Elementary School (K-7), which is a quick seven-minute drive along Highway BC-3B E (5.6 km away). J.L. Crowe Secondary School (grades 8-12) is a 12-minute drive away in Trail, BC (10 km via BC-3B W). Students may attend the nearby Selkirk College for post-secondary education, which is a 13-minute drive via Highway BC-3BW in Trail, BC (10.8 km).
Montrose Health Care
The health care needs of Montrose residents are well looked after by health care professionals in the nearby communities of Fruitvale and Trail, including general practitioners, orthopedic surgeons, podiatrists, and pediatricians. You'll find that most of these offices fall within a short 10-minute drive from your home.
The village of Montrose is under the care of the Interior Health Authority. Residents seeking hospital services only need to drive 12 minutes away to the Kootenay Boundary Regional Hospital (KBRH) in Trail, which provides advanced diagnostic testing, specialist services, and core medical services. The hospital also has emergency services, obstetrics, and laboratory services. For an extensive list of services provided at KBRH, please visit their website.
Things to Do in Montrose
The possibilities for outdoor adventures and creating fond memories to last you a lifetime when you live in Montrose are endless. In the summer, the scenic beauty of the West Kootenay's inland rainforest and all its rivers and lakes provides an expansive playground for you to go hiking, mountain biking, camping, boating, golfing, and fishing. Each summer, Montrose's Recreation Commission looks forward to planning and hosting Montrose Family and Friend Fun Day, where the whole community (and neighbouring communities) comes out to eat, play, and enjoy each other's company.
Being a mountainous region, you can imagine how snow-covered mountainsides and tantalizing fresh powder become stunning spaces for some of the best alpine skiing, snowshoeing, sledding, and snowmobiling that nature can offer snow enthusiasts.
For those searching for theatre and the arts, it is easy enough to take a drive to nearby communities such as Trail, Fruitvale, or Castlegar. For instance, you can visit the Charles Bailey Theatre in Trail or the Kootenay Gallery of Art, History, and Science in Castlegar! We invite you to check out this website for more ideas on exploring British Columbia's West Kootenay region.
Montrose Real Estate Market
The village of Montrose is a wonderful place for those in search of peaceful, rural living where life runs at a slower pace and street noise is minimal. It is especially fitting for those looking into homeownership; approximately 95% of Montrose's population own their home while the rest rent.
The majority of the real estate market in Montrose consists of detached, single-family homes. The houses feature relatively spacious lots, green lawns, and beautiful tree-lined mountain views as their backdrop. Montrose's real estate listings are also typically comprised of three-bedroom or four-or-more bedroom houses.
As for housing styles, you can expect older-looking homes as approximately 45% of Montrose's buildings were constructed before the 1960s. The rest of its properties were built in the 1960s, though it is possible to find newer builds in recent years.
Montrose Realtors
Are you thinking of buying or selling a home in Montrose? If you're looking to buy a home, contact our Loyal Homes real estate agents, who can answer all your Montrose community, neighbourhood, and real estate questions.
If you're thinking of selling your Montrose, BC home, our associated Listing Realtors can provide information on recently sold comparable properties, up-to-date real estate market information, and professional tips to help you prepare and sell your house for top dollar.