Homes for Sale in 100 Mile House, BC
Welcome to 100 Mile House! Below you will find the newest homes for sale and real estate in 100 Mile House, BC. If you would like more information on any of these 100 Mile House real estate listings, simply click on the property, register for a free account, and you'll have access to the full details. From there, you can click Schedule a Tour to request more information from our Loyal Homes Client Care Coordinators or schedule a viewing. Our Client Care Coordinators will be happy to provide you with property disclosure statements, past sales history, comparable properties which have recently sold nearby, and more, so please don't hesitate to ask for help!
For your convenience, we have included 100 Mile House community information at the bottom of the page, including directions for getting here and information about weather, culture, healthcare, recreation, schools, and the real estate market.
Newest 100 Mile House Real Estate Listings
100 Mile House Real Estate Listings
November 27, 2021
100 Mile House Real Estate Listings by Price
About 100 Mile House, BC
100 Mile House is a charming small town in the South Cariboo area of central British Columbia. The town of 100 Mile House is small—with a population of around 2,000 residents—but it's also a hub that serves many smaller surrounding communities in the South Cariboo Region, which in total, has a population of over 20,000 people.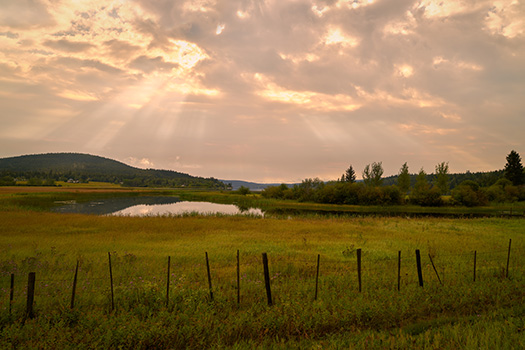 100 Mile House's unique name links its rich history as an important location during the Cariboo Gold Rush in the 1800s. A roadhouse was built that was 100 miles north of Lillooet, BC. While that roadhouse burnt down nearly a century ago, the name lives on, and residents of 100 Mile House affectionately refer to themselves as "Hundred Milers."
100 Mile House has been gaining attention because of its affordability and easy access to excellent outdoor recreational activities. In particular, 100 Mile House is considered a fantastic nordic skiing destination and is even called the International Nordic Skiing Capital.
Located amidst rolling hills and winding rivers, 100 Mile House offers a unique living experience and a welcoming small-town community atmosphere. The summer activities in the area are inexhaustible, and for a town of its size, 100 Mile House boasts an impressive range of amenities for residents.
Getting to 100 Mile House
100 Mile House is located conveniently along Highway 97—the province's longest highway, which runs from north to south from the US border up to Yukon in the north. 100 Mile House is along the Cariboo Highway, which follows the path of the original Cariboo Wagon Road from Gold Rush times, and many other communities in the area have names referencing their distance along this route. 100 Mile House is also accessible by Highway 24, which travels from east to west.
100 Mile House is located 456 kilometers north of Vancouver—a 5-hour drive. Cities north of 100 Mile House include Williams Lake (91 kilometers), Quesnel (210 kilometers), and Prince George (329 kilometers).
The nearest airport to 100 Mile House is Williams Lake Airport, which offers flights to Vancouver. More flight options are available at Kelowna International Airport, and bus routes from Kelowna to 100 Mile House are also available.
100 Mile House Weather
The weather in 100 Mile House is relatively mild, considering its reasonably remote northern location. Summers are warm but rarely hot, and the thermometer often dips relatively low when evenings roll around. During wintertime, temperatures usually hover around freezing, with rare dips into freezing spells.

100 Mile House is located in a rain shadow, which means the nearby mountains protect it from the winds that tend to usher in abundant precipitation. However, snowfall is usually heavy during the winter months, contributing to the culture of alpine skiing in the area.
100 Mile House Culture
For a town of its size, 100 Mile House has an impressive cultural landscape. The Martin Exeter Hall hosts concerts and community events and has a capacity of 275, while the 100 Mile Community Hall is often home to community events.
The 100 Mile District Arts Council is a volunteer group that presents opportunities for locals to partake in creative endeavors. Visitors and residents alike can enjoy the works of local artists at the Parkside Art Gallery. Because of its tranquil environment and beautiful landscapes, 100 Mile House is popular with visual artists.
100 Mile House Education
Education in 100 Mile House is provided by the Cariboo-Chilcotin School District, which, in addition to 100 Mile House, covers Williams Lake and all of the small communities in the area—around 4,600 students across 22 schools.

100 Mile House Elementary offers classes for K-7, while the area's high schools include Peter Skene Ogden Secondary and PSO Outback storefront.
In terms of postsecondary education, Thompson Rivers University has a campus in 100 Mile House that offers continuing education courses and training courses. More studies are available at Thompson Rivers' campus in nearby Williams Lake.
100 Mile House Health Care
Interior Health provides health services in 100 Mile. The 100 Mile House Health Centre, also referred to as South Cariboo Health Centre, offers a range of health services for those living in the area.
In addition to urgent care, outpatient ambulatory care, laboratory services, community services, and long-term care are provided through 100 Mile District General Hospital, housed within the health center.
Things to Do in 100 Mile House
The nordic skiing trails in the 100 Mile House area are extensive and impressive. Only minutes from 100 Mile House, you can find the routes offered by Cross Country Skiing BC—45 kilometers of groomed skiing trails, with some of them lit for night skiing as well.
The 100 Mile House area has some excellent fishing, particularly at Bridge Lake Provincial Park. The lake has freshwater cod, plus rainbow and lake trout. If fishing isn't your thing, the park also provides scenic walking paths, campsite, and picnic areas.
To immerse yourself in the 100 Mile House area's history, you can head to 108 Mile House Heritage Site. There, you can learn about BC's gold rush and observe historic buildings, including an old hotel, a schoolhouse, a church, and more.
100 Mile House Real Estate Market
100 Mile House presents excellent recreational opportunities and relatively affordable real estate, making it an increasingly attractive destination for real estate investors who are moving from more populous nearby areas and looking for vacation properties.
100 Mile House has impressive options for lakefront properties on large lots that would command sky-high prices elsewhere. Slightly outside the town, properties with dozens and even hundreds of acres of land are available, offering terrific privacy and unlimited potential.
Within the town of 100 Mile House, several good-sized homes built in the '60s and '70s present options for solid starter family homes or investment properties for those with renovation dreams. These homes often have sizeable yards and mountain views.
Off-the-grid cabins and undeveloped lots are also available in 100 Mile House, so whether you're looking to escape the bustle of city life or plan to build your dream home, the real estate options in 100 Mile House and surrounding communities are endless.
100 Mile House Realtors
Are you thinking of buying or selling a home in 100 Mile House? If you're looking to buy a home, contact our Loyal Homes real estate agents, who can answer all your 100 Mile House community, neighbourhood, and real estate questions.
If you're thinking of selling your 100 Mile House, BC home, our associated Listing Realtors can provide information on recently sold comparable properties, up-to-date real estate market information, and professional tips to help you prepare and sell your house for top dollar.